130m hydraulic drillimg rig coring machine diamond core drill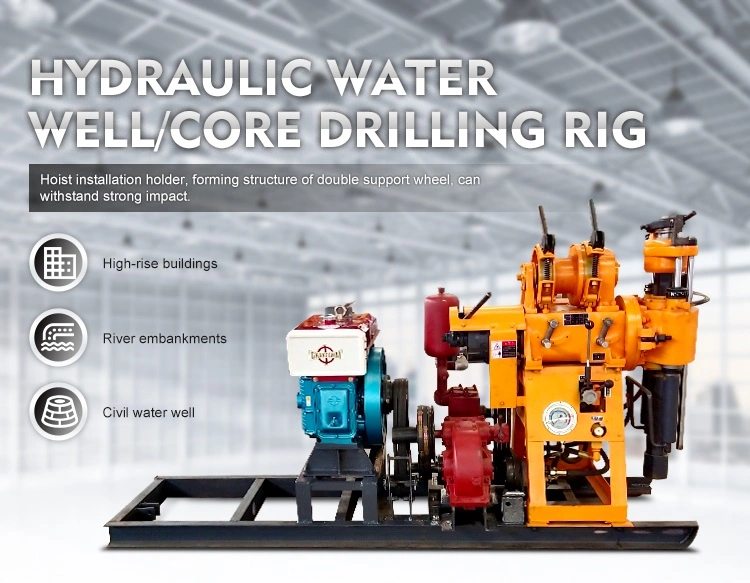 1. Applications of HZ-130Y
h
ydraulic
core d
rilling rig
geological survey and exploration
basic exploration for roads
high-rise buildings
inspection holes for various concrete structures
river embankments
grouting holes
direct grouting,
civil water well
ground temperature central air conditioners.
2.Features of HZ-130Y
h
ydraulic
core d
rilling rig
Hoist installation holder, forming structure of double support wheel, can withstand strong impact.
Four groups of bearings are positioned in the vertical shaft box to ensure that the gyration is rigid enough to cope with the complex geological conditions such as the gravel layer and the pebble layer.
This machine adopts the conical clutch, which has the characteristics of large transmission torque, convenient operation and no maintenance required.
Using 53*59 hexagon active drill rod, which has strong rigidity and large torque transmission
3.Technical parameters
of
HZ-130Y
h
ydraulic
core d
rilling rig
HZ-130Y hydraulic core drilling rig

Drilling depth

130m

Maximum open hole caliber

220mm

End hole caliber

75mm

Drill rod caliber

50mm

Drilling angle

90-75°

Drill weight (Not include power)

750kg

Spindle

Spindle speed

142 285 570r/min

Spindle stroke

450mm

Hoist

Max.single line hoisting capacity

1600kg

Single line lifting speed

0.41/0.82/1.64m/s

Drum diameter

140mm

Wire rope diameter

13mm

Tightrope caliber

27m

Mud pump

Type

Horizontal single urn twin-action

Electric motor

95/77 l/min

Maximum pressure

1.2mpa

Work pressure

0.7mpa

Water inlet caliber

30mm

Water to exit caliber

20mm

Triangle conveyer belt

B1575mm