150m Trailer Type Water Well Drill Rig
Our trailer mounted type water well drilling rig are widely used for borehole drilling domestic and world wide. They can work with air compessor and DTH hammer and bits to realize the high efficiency air drilling, also can work with mud pump and tricone bits for the mud drilling. If the working layer is with some rock, it can do the core drilling to get the rocks out and continue the drilling work. Overall speaking, it is a functional drill.
The drilling depth of our GL-II trailer type water well drill rig is 150m and drilling diameter 90-1200mm. The big range of drilling diameter can fully meet customer's different drilling needs.
The structure of our GL-II is simple, which is easy to operate and maintain. We can also send our working staff aborad for the training to our customers. For any technical questions, we could solve quickly.
Main Application
Drilling wells for urban and rural life
Drilling wells for agricultural irrigation and industries
Drilling for geotechnical survey
Drilling construction engineering holes
Drilling geothermal pump wells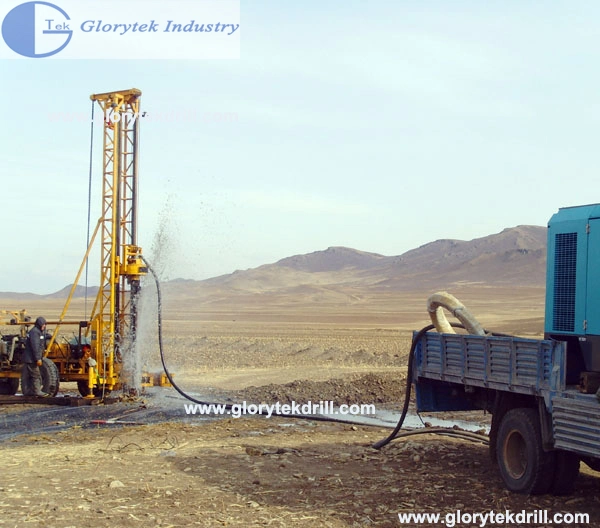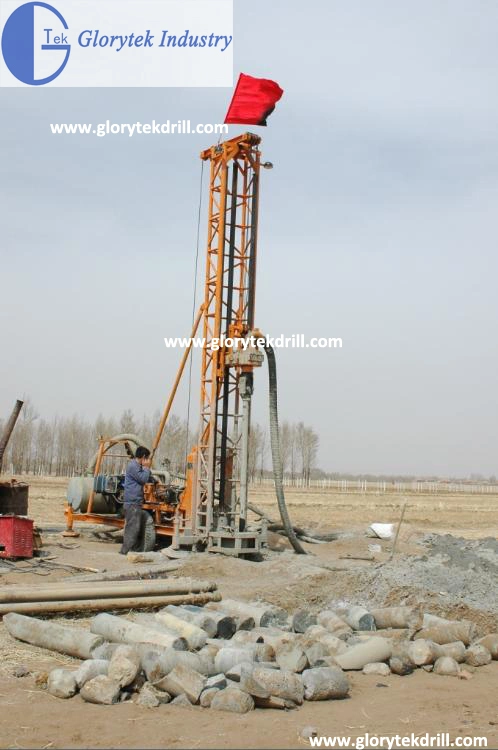 Main Specification

Item

GL- II Trailer Mounted Drill

Hole Diameter (mm):

90 - 1200

Hole Depth (m):

150

Run of Rod (m):

3

Drill Rod Diameter (mm):

φ60 , φ73 , φ89 , φ95 , φ133

Drill Head Inside Diameter (mm):

φ35 , φ60 , φ81 , φ120

Rig Mass (kg):

3400

Drilling Technology :

Normal and Reverse Circulation for Both Mud and Air

Down-The-Hole Hammers:

Middle-High-Pressure Air

Drill Head Lifting Speed (m/s):

0.25 0.15

Drill Head Lifting Force(kN):

55.4 94.55

Feed Thrust (kN):

0 - 15

Drill Head Spin Speed (r/min) :

A(Forward:13-22-48, Reverse: 10-17-36)

B(Forward: 48-84-184, Reverse: 37-65-142)

Main Hoist Lifting Force (kN):

18.54

Pump:

LBN-20 Normal and Reverse Circulation Pump Group

Flow (m3/h):

80

Power Unit:

Diesel Engine

Power(Kw):

40

Mask Up-Down:

Mechanical Unit

Chassis:

Trailer with two wheels

Dimensions(mm): (L-W-H)

Working Conditions: 4910*2020*6650

Transport status: 6700*2020*2750
Company information:
Glorytek Industry (Beijing) Co., Ltd. Is a professional manufacturer and supplier of top quality drilling equipment and drilling parts with over 20 years experience. Our factory covers an area of 250,00 square meter, and more than 600 employees,and sales more than 100 countries.
Contact information:
Sales: Miss Monica


Phone:+861052864265