200m Deep Trailer Mounted Portable Water Well Drilling Rig Machine
Product description
XYD
series crawler drilling machine or
track mounted
drilling rig is mainly used for geological general investigation and exploration,kinds of hole in concrete structure,road and tall building foundation exploration,river levees,subgrade grouting hole drilling and direct grouting,civil wells and earth temperature central air conditioner,etc.
Feature
Hydraulic control drill mast,save time and worker labor.

Four hydraulic jacks with max. height 1.3m,the machine can be loaded on to and unloaded from truck.

Rubber track is with lighter weight,and does not hurt urban road.

Electric-start diesel engine reduces the operator

'

s labor intensity.

Mud pump:BW160 mud pump,with bigger flow displacement and pressure,easy maintenance

Optional installation of hydraulic twist tube machine(75-168mm),improve work efficiency and reduce labor costs.
Technical parameter
The whole machine parameters

Model

XYD-130

XYD-180

XYD-200

Drill hole depth

130m

180m

200m

Maximum opening diameter

Φ75-Φ220mm

Φ75-Φ220mm

Φ75-Φ325mm

Final hole diameter

Φ75mm

Φ75mm

Φ75mm

Drill pipe diameter

Φ42-60mm

Φ42-60mm

Φ42-60mm

Borehole inclination

90°- 75°

90°- 75°

90°- 75°

Power(diesel engine)

13.2/2200kw/r/min

13.2/2200kw/r/min

15/2200kw/r/min

Size

3.8*1.95*2.7m

3.8*1.95*2.7m

3.8*1.95*2.7m

Vertical shaft

Vertical spindle speed

142,285,570r/min

130,480,730,1045r/min

64,28,287,557r/min

Vertical stroke

450mm

450mm

450mm

Crawler chassis

Crawler size/piece

350*90*48mm

350*90*48mm

350*90*48mm

Climbing angle

20°

20°

20°

Moving speed

10km/h

10km/h

10km/h

Hydraulic landing leg valid height

1300mm

1300mm

1300mm

Rig

Rated load

18t

18t

18t

Effective height

6.5m

6.5m

6.5m

Mud pump

Model

BW160

BW160

BW160

Flow

160L/min

160L/min

160L/min

Maximum pressure

1.3Mpa

1.3Mpa

1.3Mpa

Reciprocating frequency

165times/min

165times/min

165times/min

Inlet hose diameter

Φ51mm

Φ51mm

Φ51mm

Outlet hose diameter

Φ32mm

Φ32mm

Φ32mm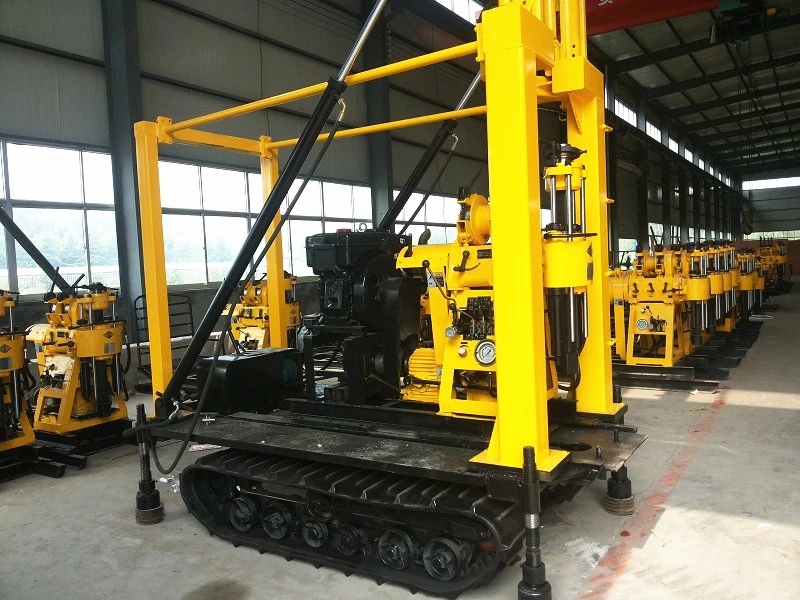 Contact Us