200m Portable Core Sampling Drilling Rig Machine Mineral drilling rig
Introduction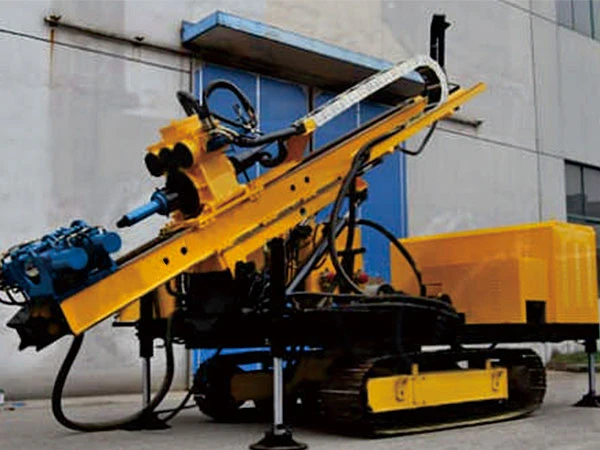 HF200RC series drilling rig is full hydraulic top drive type crawler drilling rig which is independently developed by us ,it can be used for mining investigation ,geological investigation ,borehole for water well and observation well ,borehole drilling for GSHP system and so on.
Features
1,all parts of he drilling rig are installed together on the turning platform with crawler chassis ,it moves convenient and has good maneuverability.
2,rig with power head has long feed stroke so that it can shorten the time of installing or unloading drill rods and improve the drilling efficiency .
3,rig with full hydraulic transmission and control operates easily and flexibly .it can show smooth operation and reliable work .
4,rig with dual -channel power head has strong torque as well as pulling force ,it has strong ability to deal with accidents
5,patent design of telescoping system(National Patent:ZL03222451.6) in output shaft will effectively protect drill tools
6,machine installed a hydraulic clamping & breakout system in order to automatic wrench the drill pipe and tools ,both assistant time and lobar intensity are reduced during the drill work
7,drill head with dual motor drive has a variable speed and wide speed range ,it is suitable for the application of pneumatic DTH hammer drilling and alloy drilling.
Parameter
| | | | |
| --- | --- | --- | --- |
| Rig model | HF150RC | HF200RC | HF300RC |
| Borehole depth (m) | 150 | 200 | 300 |
| Borehole diameter (mm) | 110-150 | 110-150 | 150-250 |
| Drill head rotary speed (RPM) | 21-158 | 43-150 | 48-190 |
| Output torque of drive power head (NM) | 7800 | 8000 | 8500 |
| Drill head feeding stroke(mm) | 3500 | 3800 | 3500 |
| Drill head max lifting force (KN) | 65 | 85 | 150 |
| Drill head max feeding force (KN) | 45 | 55 | 100 |
| Hoist max lifting capacity (KN) | 11 | 11 | 20 |
| Engine power (KW) | Cummins 45+18.5 | Cummins 45+22 | Cummins 125 |
| Drill machine Weight(Kg) | 6800 | 8000 | 9800 |
| Overall Dimension(L*W*H)(mm) | 6500*2200*2400 | 6300*2000*2500 | 6800*2250*3100 |
Product Display