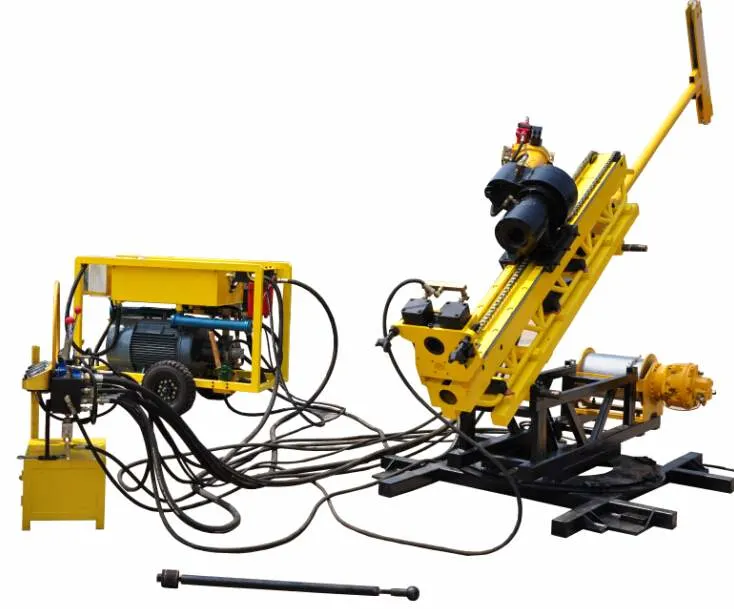 GP90-1 All Hydraulic Diamond Core Drilling Rig
Performance and Specifications
Rod, Hole and Depth (with wire line)
| | | | |
| --- | --- | --- | --- |
| Drilling depth(m) | Hole Dia.(mm) | Rod Dia.(mm) | Material of Rod |
| | | | |
| 300 | 95 | 89 | Steel |
| | | | |
| 400 | 75 | 71 | Steel |
| | | | |
| 500 | 59 | 55.5 | Steel |
| | | | |
Depth are based on vertical hole
Working Parameters
Main shaft rotation speed without load: ≥1700r/min (speed reducer ratio 2.2:1) ≥820r/min (speed reducer ratio 3.5:1)
Main shaft rotation speed with load: ≥1300r/min (speed reducer ratio 2.2:1)
Drilling output: 40-60m per 6 hours for general conditions, if hardness is not big, drilling output will be more.
Torque of axle: ≥650 Nm(speed reducer ratio 2.2:1 rotation speed 400 rpm) Axle pushing force: >53KN
Axle pulling force: >66KN Drilling angle: 0-360° Surface obliquity: 30°-90° Drive head stroke: 1600 mm
Water consumption: 5-10m3/day,depending on different climate and this is for cycled use. Core recovery: ≥75% if the ore body structure is not integrated.
≥85% if the ore body structure is integrated.
Total weight: 1750 kg(main body:550kg+ Power unit:700kg+ Operation panel:112kg) Outer dimensions:
Main body:2370×300×500mm Power unit:1530×1100×1210mm Operation panel:550×450×1150mm
Main Body
The machine body is composed of the following parts:
1. Chuck and speed reducer assembly including:
l Speed reducer: ratio 2.2:1
l Chuck and guide sleeve
l Hydraulic motor
n Working pressure: 20Mpa
n Maximum pressure:25 Mpa
n Theoretical drainage: 80ml/r, the minimum drainage 35ml/r
1. Holder assembly
2. Bed body
Oil cylinder in bed body adopt GG012-80/40x800x1060 Chain adopt 1# and 1 1/4# two kinds of bush roller chain.
Power handcart
Power handcart is composed of the following parts:
1. Y series three-phase squirrel-cage asynchronism motor
l Voltage: 380 V
l Frequency: 50 Hz
l Rotational frequency: 1480 r/min
l Power: 55Kw
2. High pressure axial plunger pump
l Motor oil way plunger pump(main pump)
n Rated pressure: 31.5 Mpa
n Theoretical drainage: 800 ml./r(90% of the oil pump drainage)
n Max. theoretical torque: 439.6 Nm
l Feed oil cylinder oil way plunger pump(service pump)
n Rated pressure: 31.5 Mpa
n Theoretical drainage: 10.9 ml/r
n Max. theoretical torque: 54.8 Nm
3. Oil filter
Filtration accuracy: 10 µm 4. Cooler
l Oil pressure: 1.6 Mpa(max)
l Water pressure: 1 Mpa(max)
5. Relief valve
l Rated flow: 401/min
l Adjustment pressure scope: 16-32 MPa
6. Electrical drive pump for hydraulic oil refill: used for adding hydraulic oil
7. Walking wheel