Crawler Hydraulic Rotary Borehole Rock Drilling Rig For Sale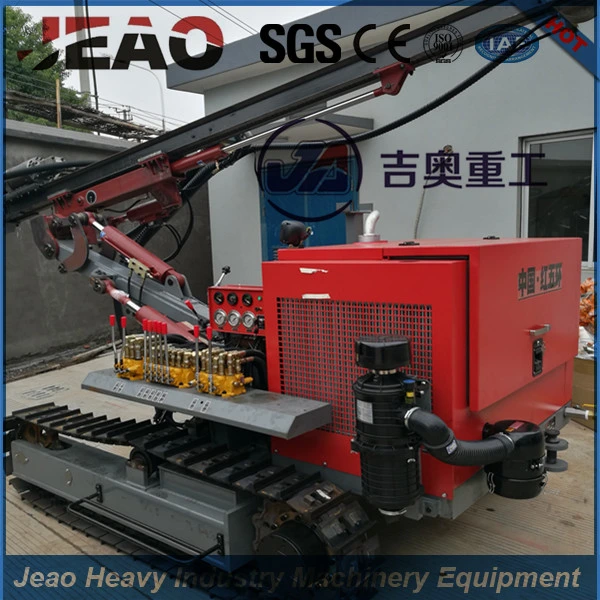 Product Description
1. Hydraulic motor with low rotation speed,large torque
2. Four cylinder diesel,movement powerful and stable
3. Equipped with auxiliary radiator,fit for cold,high location
4. Adopt oil cylinder propulsion,make sure stable performance
5. Three stage air filter ensure the air quality,and prolong the lifetime of the diesel
6. Multiple valve control system,easy to operate
7. Monitoring the pressure of hydraulic and propulsion automatically
8. Crawler tensioning device ensure the reliability of the operation
9. Spotlight makes night work and maintenance convenient.
Specification of Crawler Hydraulic Rotary Borehole Drilling Rig Machine For Sale:
Product Introduction:
HC726 rotary borehole drilling rig machine is a kind of between light and heavy DTH drilling rig. Hydraulic drive the drilling rig walking, rotating, and change the drilling angle. Use together with medium pressure portable screw air compressor and medium-high pressure DTH hammer. High performance, affordable price and lower cost of use.
| | |
| --- | --- |
| TYPE | HC726A1 |
| Rock rigidity | F6~20 |
| Hole diameter(mm) | 90~130 |
| Drilling depth(mm) | 25 |
| Climbing ability(°) | 25 |
| propulsion type | Cylinder |
| propulsion distance(m) | 3 |
| Max. lifting force(KN) | 15 |
| Rotation torque(N.m) | 1800 |
| Rotation speed(r/min) | 0~90 |
| working air pressure (MPa) | 0.7~1.6 |
| Air consumption(m³/min) | 7~15 |
| Main power(kw) | 40 |
| Arms horizontal swing angle(°) | left 30(90) right 30 |
| Traveling speed(km/h) | 2.5 |
| ground clearance(mm) | 300 |
| Dimension(L*W*H) | 5260*2045*1950 |
| Weight | 4200 |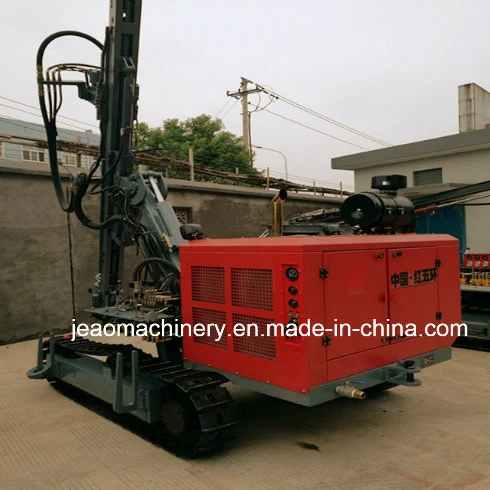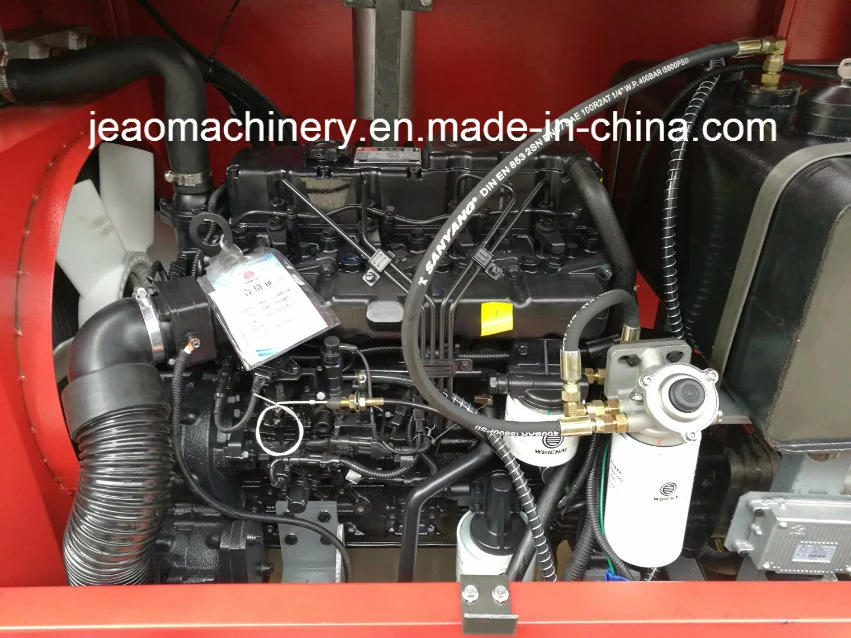 Matching Air Compressor:
Model No.

HG550-13C

Air Delivery

15m3/min

Working pressure

13bar

Driven way

Coupling direct connected, diesel driven

Lube oil

65L

Oil gas tank

189L

Air tank capacity

130L

Air outlet valve.

1-G2''/1-G1''

Dimension(L*W*H)

3400*1690*2200mm

Weight

3200kg

Diesel Engine

Model

6BTA5.9-C180 (CUMMINS)

Type

Air cool

Cylinder

6pcs

Working power

132kw

Rated rotation speed

2200rpm

No-load rotation speed

1400rpm

Lube oil capacity

18L

Fuel tank capacity

210L

Coolant capacity

45L

Battery

6-QW-135MF*2