D545 Integrated Rock Blasting Drilling Rig for Mining



D545 in surface quarry, small construction and mining excavation, for various rock types blast hole applications.Light and flexible, high ROI, and lower cost perton

ZEGA D545 integrated DTH drilling rig,an upgrade from existing mature model, with core components upgraded to world famous brands. Single power pack (only one diesel engine) drives both screw air compressor and hydraulic system with power output of stagger design.
Comparing with separated drills, the power consumption of diesel engine is reduced by 30% and maintenance cost down by 50%. The integrated designed of ZEGA D545 for improved production efficiency without towed air compressor moving around with less air transmission loss and better long-distance fleet management.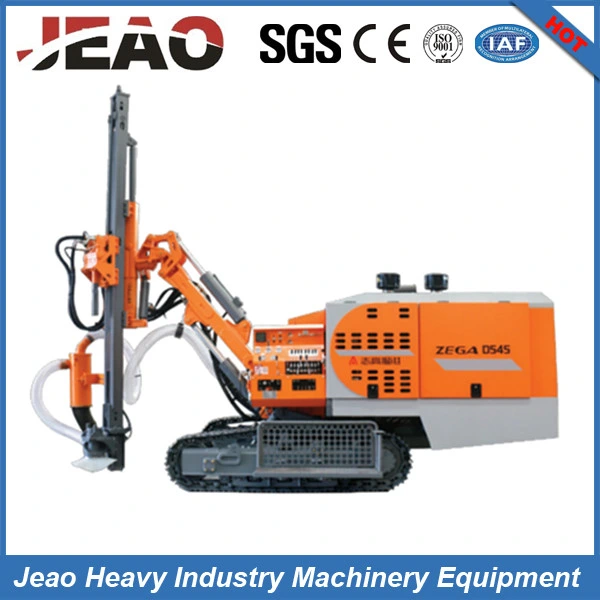 Main Features of Integrated Crawler Surface Drilling Rig
1.Powerful Rotation head
Bigger and stronger designed Rotation head for smooth high torque output and less drill tool jamming with seamless speed regulation.

2.Multi-directional drill design.
For complex drilling conditions, 400 mm ground clearance for horizontal drilling applications.

3.New protective cover
Better appearance and convenient for maintenance.

4.Ergonomic comfortable operation console
Centralized control, convenience, efficient control console and full display panel of functions.

5.Dust collecting system
High efficiency two stage dust collector with high speed fan for larger filter area, technical advanced and industry leading.

6.Standard walking mechanism
Equipped with speed reduction walking system and standard excavator track for compact structure. Excellent off-road performance with powerful two-speed hydraulic walking system for extreme low failure rate.
Specification for Integrated Rock Blasting Drilling Rig for Mining :
Model No

ZEGA D535T

ZEGA D545

Technical specifications

Recommended hole size

80-115mm

108-127mm

Hammer size

3.5 inch

4 inch

Hydraulic Rotary Head

Rotation speed

0-110 rpm

0-90 rpm

Max.work torque

1450 N.m

2479 N.m

Engine type

Engine model

Cummins QSB5.9

Cummins QSC8.3

Rated power

158KW

194KW

Emission Standard

EU Stage III A

Tier 3

Fuel tank capacity

170 L

420L

Compressor

Brand

ZEGA

ZEGA

Max. Work Pressure

14.5 bar

17 bar

F.A.D

12 m³/min

15 m³/min

Feed beam

Feed type

Cylinder-chain

Cylinder-chain

Total length

5340 mm

5340 mm

Feed travel length

3200 mm

3200 mm

Feed extension

960 mm

1200 mm

Max. feed speed

0.75 m/s

0.75m/s

Max.feed force

15 KN

21 KN

Max.pull up force

25 KN

40 KN

Chassis

Max.tramming speed

3km/h

3km/h

Max.traction force

65 KN

71 KN

Track Frame Oscillation

+/- 10°

+/- 10°

Ground clearance

540 mm

360mm

Dimension

Length*width*height

6050*2560*2720 mm

7150*2500*2800 mm

Weight

6850 kg

10500 kg