TWD150 Trailer Mounted Water Well Drilling Rig
1. TWD150B series drilling rig is a light, efficient and versatile drilling and drilling equipment. The drilling
rig adopts two-wheeled trailer type, which makes the transition convenient and quick.
2. TWD150B mainly suitable for drilling small-aperture wells, geothermal air-conditioning holes and other
wells, especially for water intake projects in mountainous and rock formations. The efficiency is ten times
higher than the traditional rotary drilling rig, and the economic benefits created for the users are extremely
impressive.
3. In particular, it can drilling on hard rock layerand it can work efficiently under various geological
structures. It is the most popular machine meeting most requirements for a combination drilling machine
able to complete rural water supply holes in sediments and hard rock. Weighing about 3200-kg that allows
it to be pulled by a pick-up it is packed with features.
4. TWD150B combines an onboard power pack, drill pipe storage and foam pump on a single axle trailer.
This makes for a quick set up in most locations and is an ideal multipurpose rig for many water well drilling
operations.
5. TWD150B has mud pump built in this high head pump can drill deeper faster than alternative skid
mounted centrifugal mud pumps and takes its power direct from the trailer power pack.
6. The machine is compact in structure and convenient to carry. The whole machine adopts full hydraulic
drive and has low failure rate.The tower assembly has a hydraulic compensation mechanism. When the
tower is grounded during construction, the bearing capacity is greater and the stability is higher.


Specification
Description

TWD150B

Geology drilled

All kinds

Drill depth

0-150 m

Drilling Diameter

90-254mm(Mud drilling)

Drilling Diameter

90-254mm(DTH Drilling)

Drill system and operation

Hydraulic

Rig assembly

Main engine driven

Mobility

4 wheel tandem road trailer

Transportation

Towed by pickup or light truck

Drill pipe (diameter x length)

76/89 mm x 2 m

DTH Hammer

4-6Inch

Foam pump

Optional

Weight

2600 kg

Rotation&Feed System

Top head drive by a hydraulic cylinder

Rotation torque

2250 N-m

Rotation Speed-Fast

0-110Rpm

Rotation Speed-Slower

0-55Rpm.

Head travel

2.25 meter

Pull-up capacity

7.5Ton

Pull-up speed-slow feed

1.22 meter/min

Pull-up speed-rapid feed

12.26 meter/min

Pull-down speed-slow feed

0-1.88 meter/min

Pull-down speed-rapid feed

0- 16.90 meter/min

Diesel engine

Power

44KW

Brand

HBE

Model

4DHG

Type

4Cylinder,Naturally aspirated

Drill pipe

Drill pipe length

2000mm

Drill pipe diameter

76/89 mm

Thread

2 3/8 REG API Mod

Power pack speed

3000 rpm.

Load power pack

max. 47 hp.

Mud pump(Optional)

Flow capacity

200 liter/min

Max. working pressure

40 bar

Hydraulic System

Hydraulic tank capacity

160 liter

Stable Jack

2 front jacks and 2 rear jacks.

Hydraulic

Bore

60 mm.

Stroke

600 mm

Air System

Lubricator of venturi-type for down-the-hole drills.

Max. pressure

25 bar

Oil tank capacity

4 liter

Dimension

Overall length

3500 mm

Overall width

1800 mm

Overall height

1900 mm

Overall height

1901 mm
Pictures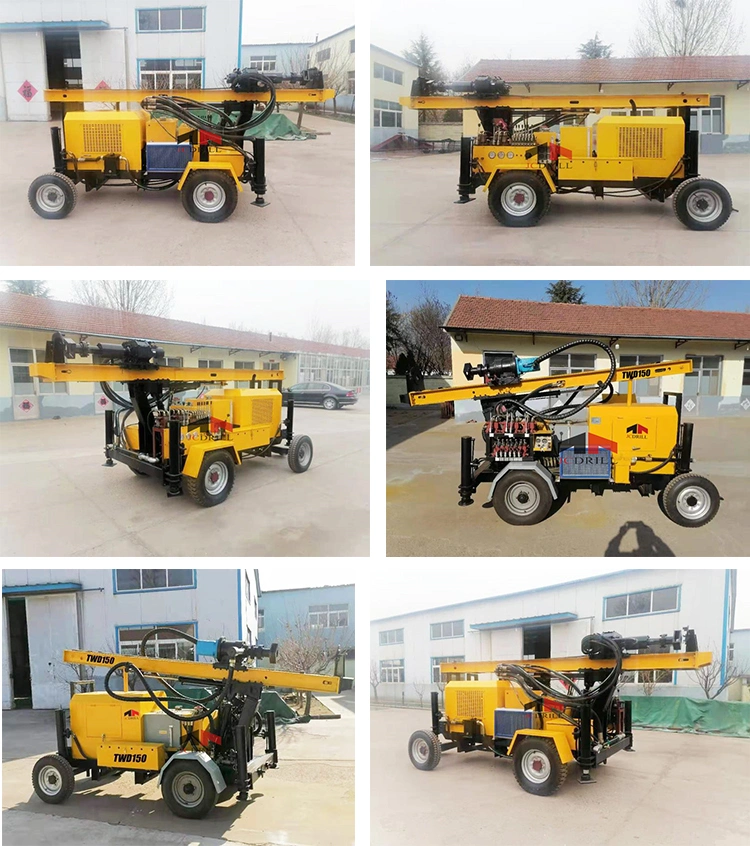 Service
1. We have service team to supply professional guidance for installation.
2. Our quality inspection department will check each of machine before leaving the factory.
3. We offer one-year quality warranty for main body of machine.
4. All of machines we sold hold the ISO, QC, TUV certificates and so on
Packing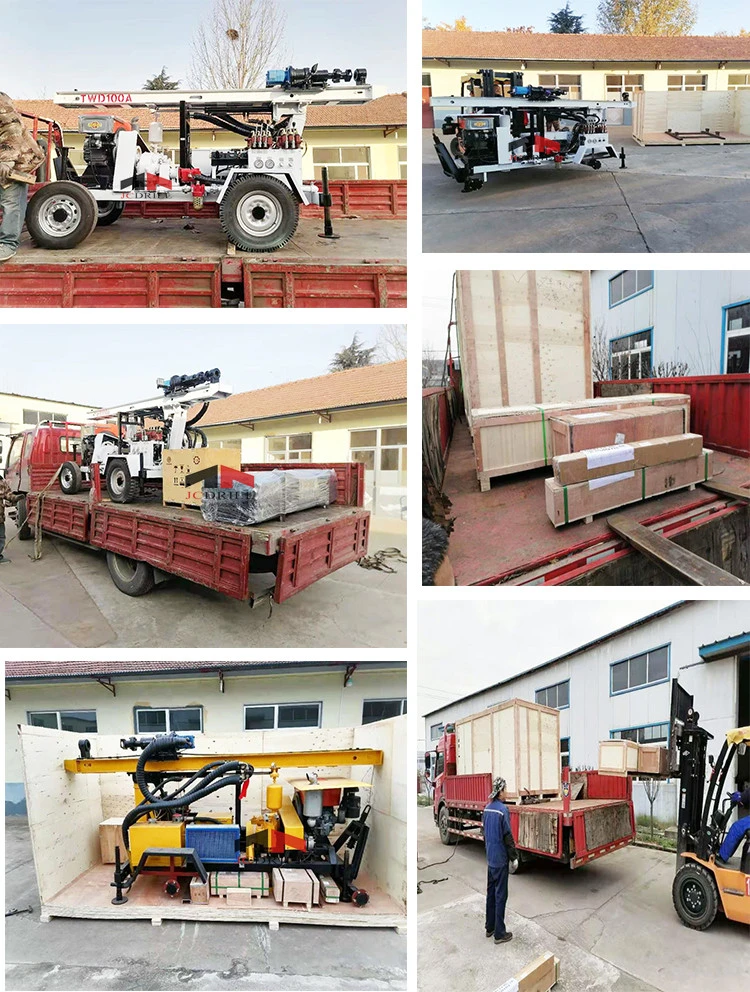 FAQ
Q1. Is it a reliable company?
Beijing Jincheng Mining Technology Co.,Ltd is a professional manufacturer of drilling rig&drilling tools in Beijing,China, and specializes in the R&D, production, process and sale of water well drilling rig,rock blasting
drilling rig,anchor drilling rig,RC drilling rig,air compressor and relative drilling tools. We have satisfied a lot of domestic
and overseas clients' needs.
Q2: What about the delivery?
The drilling rig,air compressor usually shipment by sea or road,and drilling tools can be delivery by air.
Q3: What's the delivery time?
7-25 days after received your payment.
Q4: What's the package?
Strong and beautiful aluminum alloy case/carton case/wooden case.
Q5: Do you have any timely technology supports?Yes. We have a professional technology supporting team and the technical documents for your timely services, also you
can contact us by telephone, webcam, online chat (googletalk, MSN, skype, yahoo…). If you have problems, please email us. You will get our solutions in 24 hours.
Q6: What's the payment method?
T/T, WESTERN UNION, MONEYGRAM
Q7: If the machines broken during the shipment, will you support us?Generally our customers will purchase the insurance before shipment to avoid any lost from rough transportation. We will
help you to solve the claims with the insurance companies to collect your money back in time.