GY-80 Large Torque Full Hydraulic Anchor Drilling Machine
Application :
Gy-60/80 crawler type full hydraulic engineering drilling rig is used for foundation reinforcement ,
waterproofing and plugging engineering, soft foundation treatment, geological disaster control and
building displacement anchorage of various industrial and civil buildings such as railway, highway,
bridge, roadbed, dam foundation, etc.,Supporting the use of ordinary alloy drill bits and other drilling
tools for rotary drilling;In the rock layer, the conventional ball-toothed drill bit is used for impact
rotary drilling, and the hole is formed at a high speed;In unstable stratum such as pebble layer,
the drilling tool with tube can be used to bore with casing.Supporting hydraulic impact can meet the
construction requirements of rock burst drilling operation, liquid discharge, underground micro pile,
anchor rod and cable, geological exploration, geothermal drilling, foundation reinforcement,
slope support and other infrastructure construction.After selecting the rotary jet module,
it has the rotary jet function (pendulum jet, fixed jet).In addition, it can be used for advanced pipe
shed support in tunnel and geological exploration.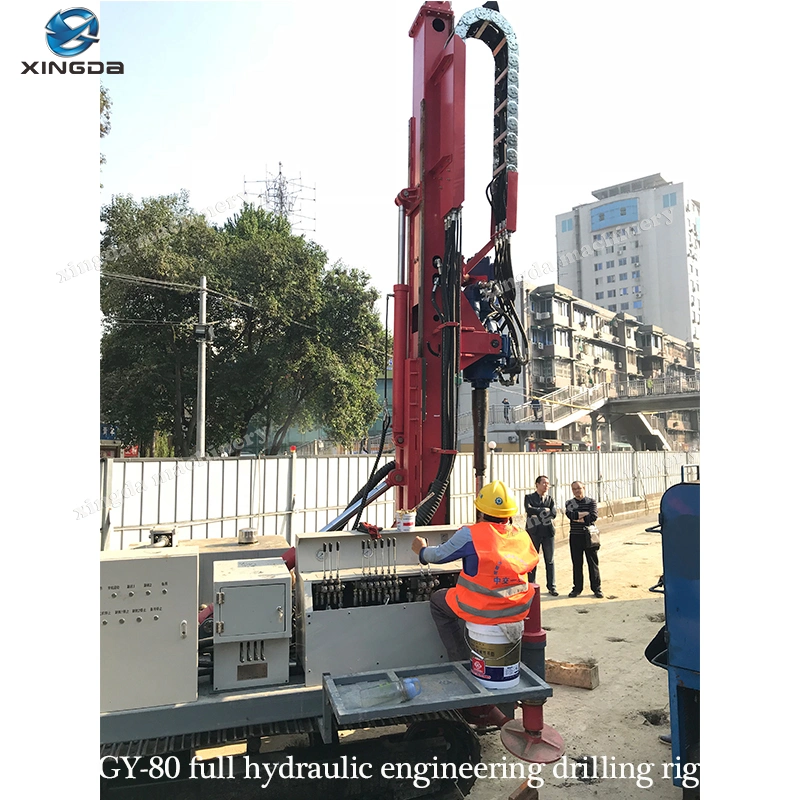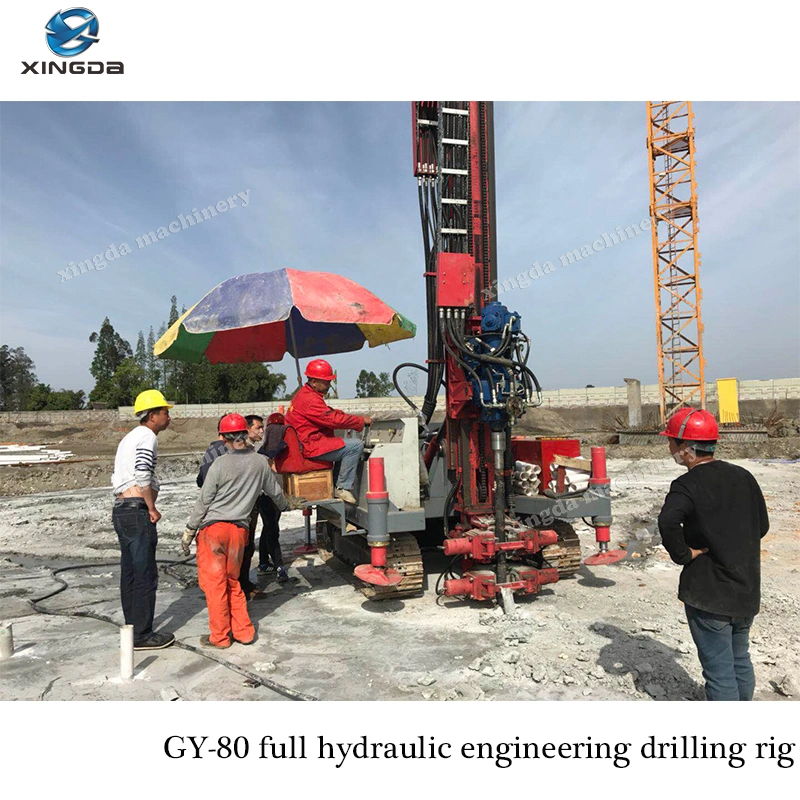 M
ain feature
1.2.1 Anchorage can be suitable for drilling pipe drilling, casing drilling, drilling pipe and
casing compound drilling method.Rotary jet can be suitable for single, double,
triple rotary jet and other drill methods.

1.2.2 Adopt full hydraulic power head transmission, infinitely variable speed,
high drilling efficiency, low labor intensity.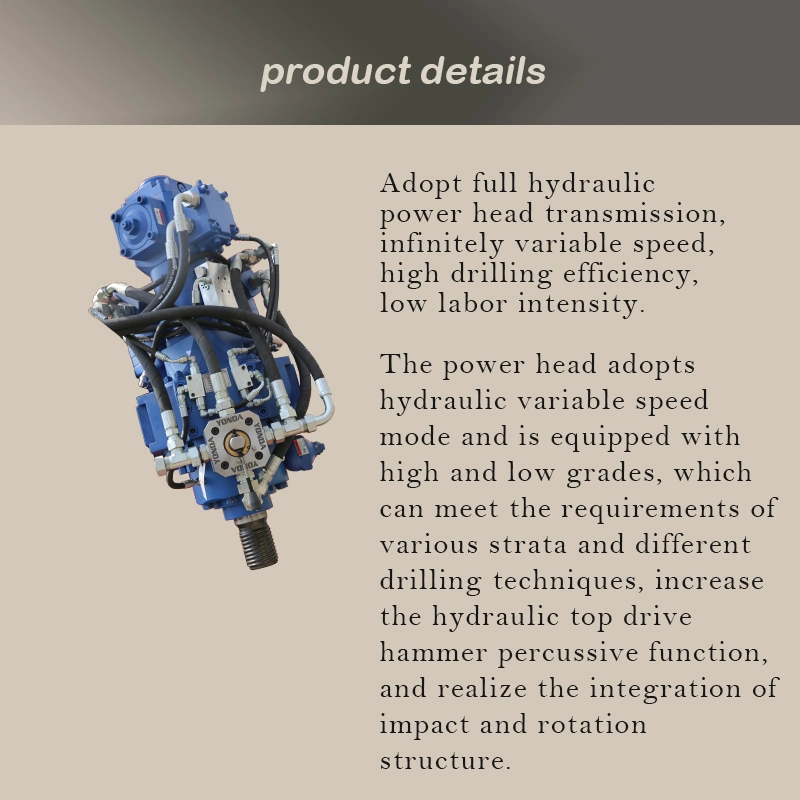 1.2.3The power head adopts hydraulic variable speed mode and is equipped with high
and low grades, which can meet the requirements of various strata and different drilling techniques,increase the hydraulic top drive hammer percussive function, and realize the integration of impact and rotation structure.In this way, the number of accessories can be greatly reduced,the quality is reliable, and the maintenance is easy. At the same time, the drilling machine can not only quickly drill into the general rock layer, but also realize the rapid drilling of gravel layer and cobblestone layer.

Reverse drilling device: when the drilling machine is stuck in the drilling process, the drill pipe can be quickly removed by striking the drill pipe with the reverse drilling device.

Frequency adjustment: manual frequency adjustment device is installed on the cylinder block of hydraulic percussion drill, which can be adjusted according to different geological conditions.

1.2.4 Hydraulic system with direct load feedback and fine-tuning variable, power changing with load,high efficiency, low energy consumption.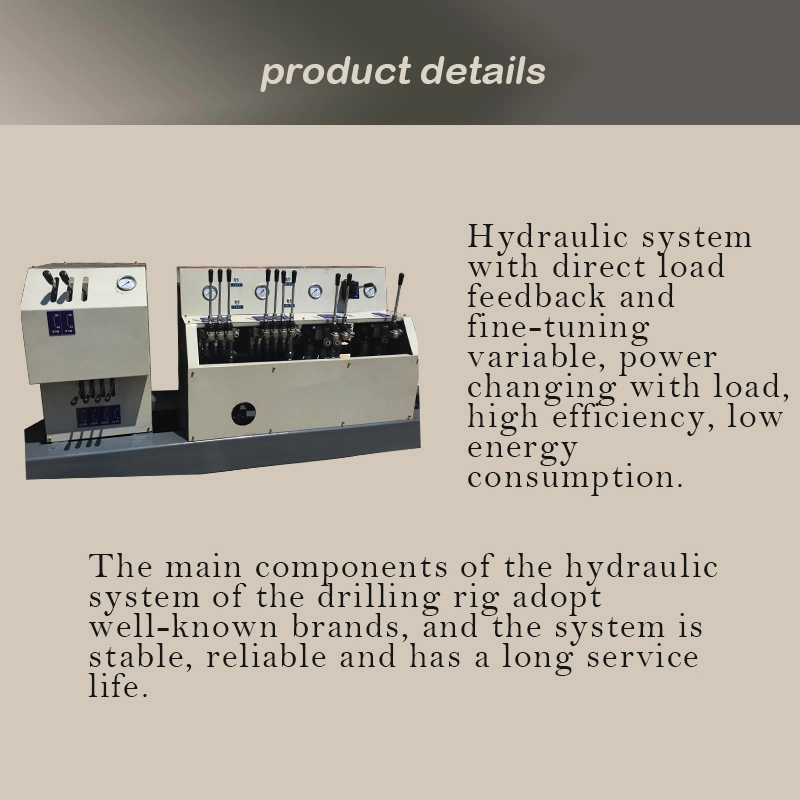 1.2.5 The main components of the hydraulic system of the drilling rig adopt well-known brands,and the system is stable, reliable and has a long service life.

1.2.6 The drill has the function of crawler walking by itself, and the equipment can be moved easily
and quickly.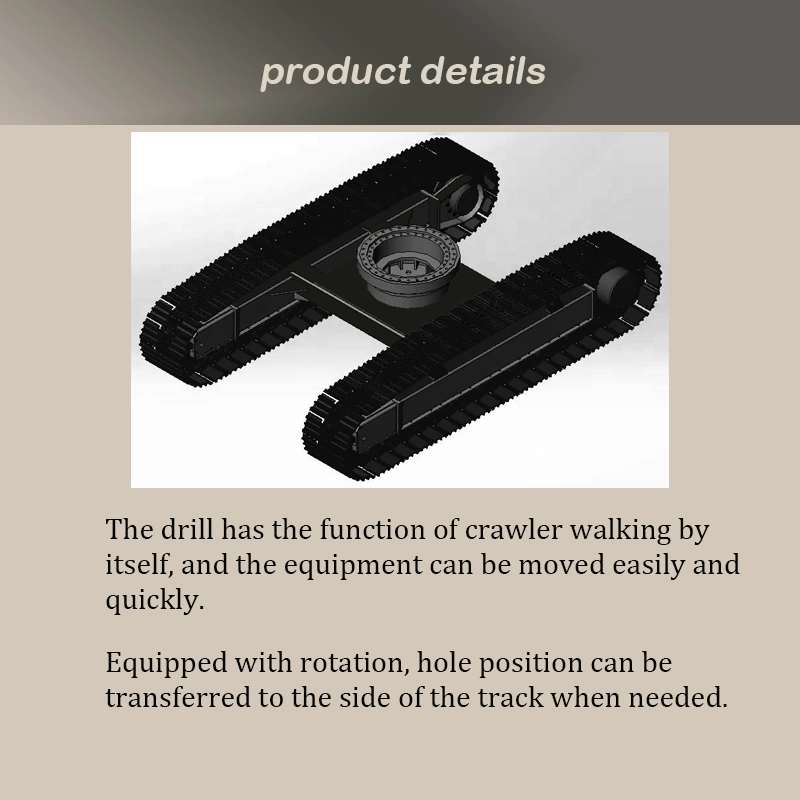 1.2.7 Equipped with rotation, hole position can be transferred to the side of the track when needed.

1.2.8 Compact structure, centralized operation, convenient and safe.

Main technical parameter :
Model

GY-60

GY-80

Maximum torque

11500N.m

16680N.m

Power head rotate speed

0-92rpm

0-64rpm

Percussion frequency

2500bmp

2500bmp

Single impact work

800Nm

1100Nm

Power head maximum stroke

3400mm

Power head rated lifting force

50kN

Power head permits plus pressure

20kN

Drill pipe diameter

Φ42mm;Φ50mm;Φ73mm;Φ89mm

Hole angle

0°-90°

Power head lifting pressurized speed

Fine adjustment speed of rotary jet 0-1.5m/min

Main pump system pressure

20Mpa

Secondary pump 1 system pressure

20Mpa

Secondary pump 2 system pressure

20Mpa

Column extend-retract

900mm

Climbing ability

20°

Traveling speed

1.5km/h

Engine power

55+30kw

Dimension

Working(mm)3750*2450*5450

Transporting(mm)5450*2300*2250

Weight

7900kg