Product Description
HF140Y high air pressure DTH drill crawler open with a low energy consumption, high efficiency, easy to transport and field construction superior technical performance, vehicle movement organizations from the hydraulic system to achieve, and only washed the source of the wind machine consumption, resulting in Air Machine Matching saves in a complete set of equipment procurement costs.
Rotary organizations to adopt a new dual-motor turret to make it to the open-air blast drilling operations when drilling large holes to maintain a strong rotary torque output, dragging air compressor, it has the mobile and flexible and climbing ability, suitable for rugged venue operations, perforation shift convenience features.
Whole diameter 105-165mm, with a piercing, high efficiency, Maintenance is simple, high reliability, is a mining, highway, water conservancy, power station construction and other construction ideal for drilling rig operations.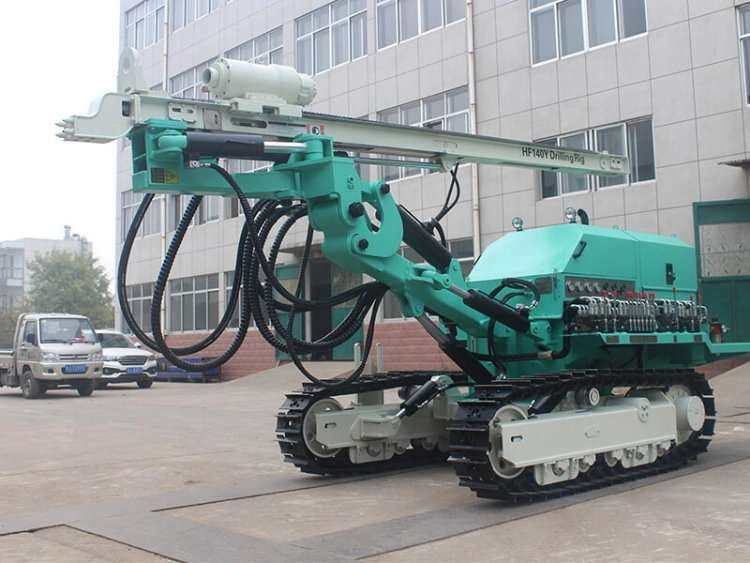 Technical Data
| | |
| --- | --- |
| Wind pressure(Mpa) | 1.2-2.46 |
| Air consumption(m³/min) | 10--20 |
| Drilling diameter(mm) | 115---150 |
| Drilling depth(m) | down 62m |
| Once promotion distance(mm) | 3000 |
| Drill diameter(mm) | 76 |
| Skid compensation(mm) | 1200 |
| Maximum lift force(N) | 26000 |
| Guide shell pitch (°) | up and down total 100 |
| Guide shell swing angle(°) | Left and right total 100 |
| Boom lift angle(°) | up and down total 70 |
| Boom swing angle(°) | 70 |
| Grade ability(°) | 30 |
| Chassis ground clearance(mm) | 300 |
| Travelling speed(Km/h) | 0-2.5 |
| Back to the transit speed(r/min) | 0--90 |
| Rotary torque(N.m) | 3100 |
| Host Power(kw) | 56 |
Working Site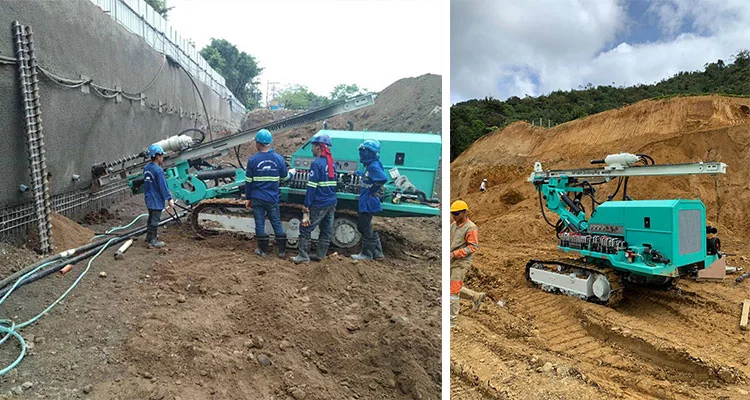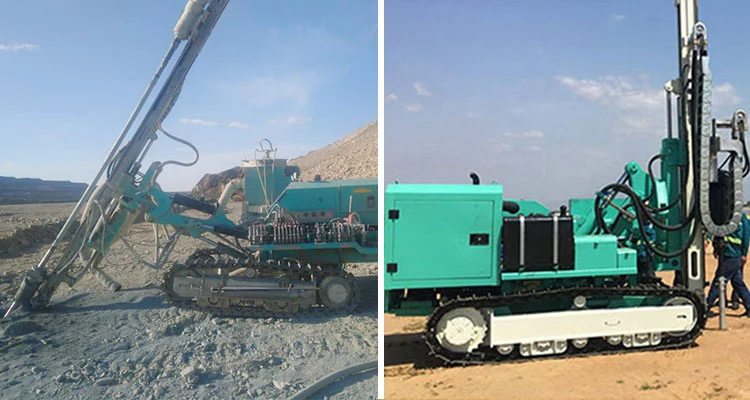 Delivery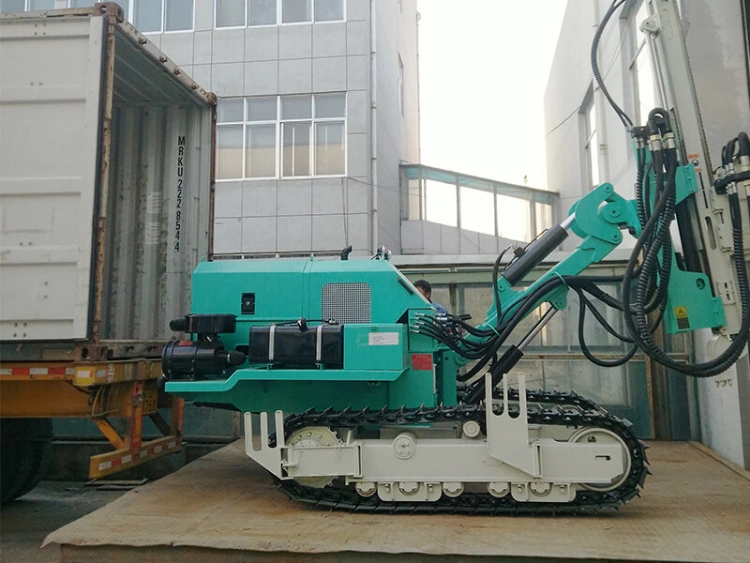 Company Introduction
Hanfa Group established in 1998 is a key enterprise in the industry of geological exploration and water well field, with the ability to research,manufacture and market. Now, the Group pursues high standard manufacturing and qualified products. It has more than 20 species such as water well drilling rig, core drilling rig, engineering drilling rig, DTH drilling rig,
horizontaldirectional drilling rig, etc. These machines are mainly used in geological prospecting, exploration of railway and
highway engineering, mining, SPT, water well, geothermal well etc. Some of them won the Scientific and Technical Advance Prize or the National Scientific Research Achievement Prize. All the products have passed the quality system certification of ISO9001:2000 and are national inspection-free products.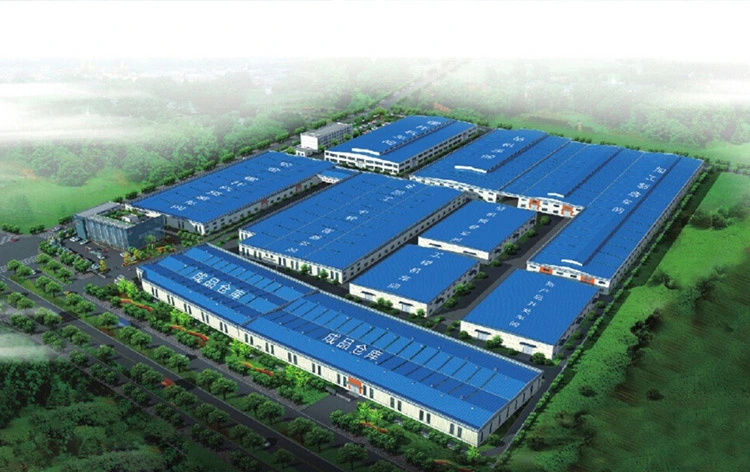 1. More than 30 years of experience
The factory is located in Henan Province, China. We are very welcome to visit our factory. If
you need it, we will arrange a pick-up.
2.Top production team
The transportation and packaging will be packaged in international standards. If you have special packaging requirements, we will give you the most suitable solution.
3.Our Service
- New machine provides technical trair.
- Once anything goes wrong with the machine by normal using, our technical person must appear at the first time no matter where you are.
- When the machine should be maintained, you will receive the reminding from us.
- According to different geological conditions, we will recommend different construction plans for you
- Remind you which are wearing parts, so you can prepare enough.
- 24 hours respond to your quality problem.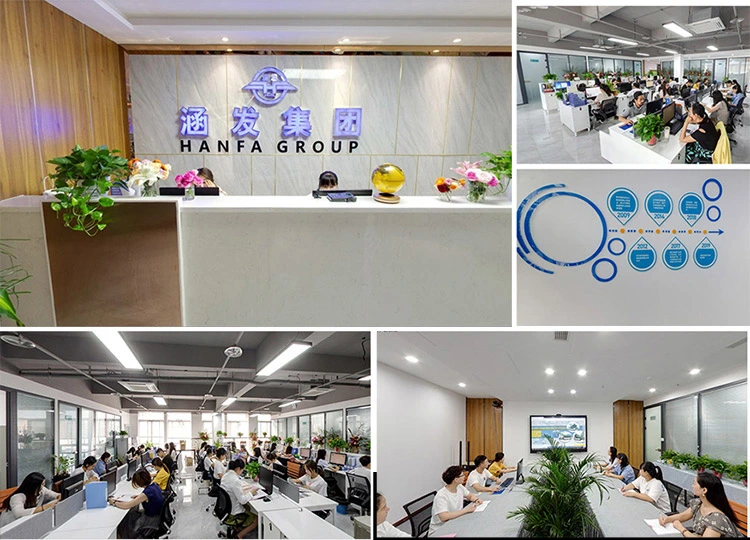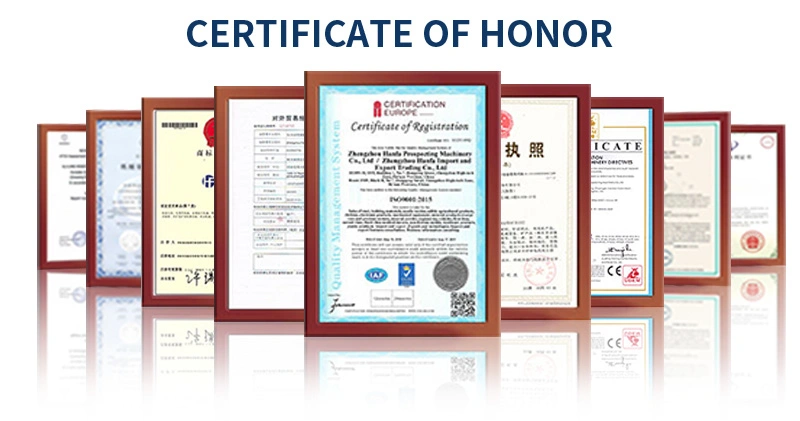 FAQ
1,Are you trading company or manufacturer?
We are professional manufacturer, and our factory mainly produce water well drilling rig, core drilling rig, DTH drilling rig, piling rig, etc. Our products have been exported to more than 50 countries of Asia, South America, Africa, and get a good reputation in the world.

2,Are your products qualified?
Yes, our products all have gained ISO certificate,and we have specialized quality inspection department for checking every machine before leaving our factory.

3,How about your machine quality?
All of our machines hold the ISO, QC and TUV certificate, and each set of machine must pass a great number of strict testing in order to offer the best quality to our customers.

4,Do you have after service?
Yes, we have special service team which will offer you professional guidance. If you need, we can send our engineer to your worksite and provid the training for your staff.

5,What about the qaulity warranty?
We offer one-year quality warranty for machines' main body.

6,How long can you deliver the machine?
Generally, we can deliver the machine in 7 days.
Our Customers