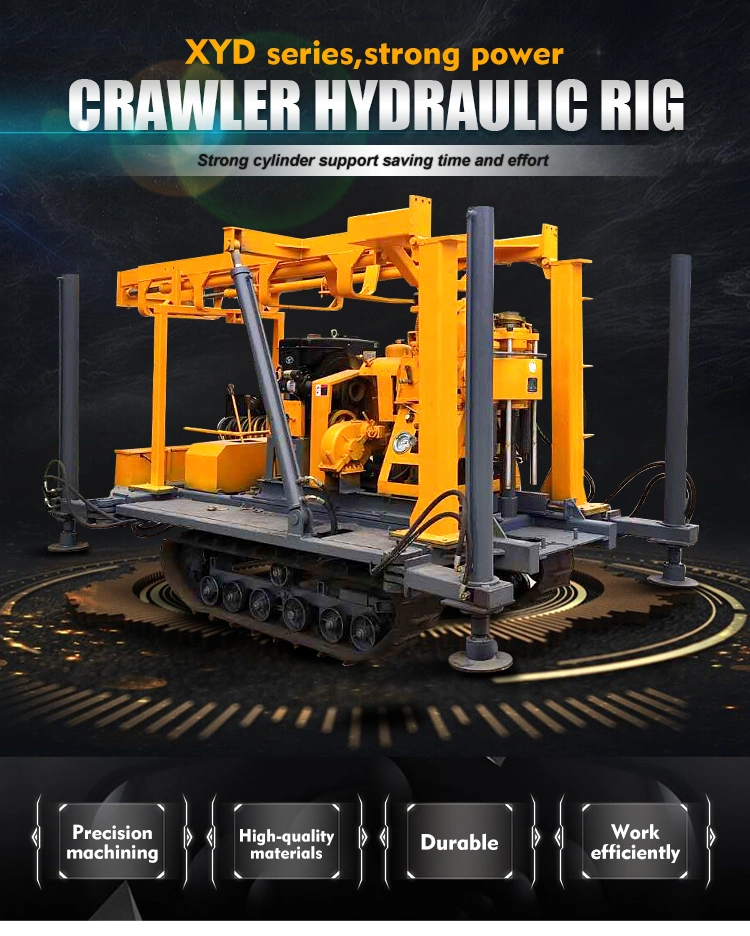 1. Characteristic
s
of
XYD-200
c
rawler hydraulic core drilling rig
drilling rig uses automatic Telescopic drilling rig ,it uses two high-strength cylinders to support.There is a group of hydraulic valves to control super nation of drill tower so that it saves time and effort, safe and reliable when user operates, the maximum for the user to create benefits.
the chassis uses a rubber belt track so that the weight is light,the cost of life cycle is lower.It can reduce noise of the vehicle walking mechanism,reduce car body's shake,reduce the oil consumption.It can walk on the pavement of city and don't hurt the pavement.
the chassis comes with four high-strength threaded legs(or Hydraulic high leg) the threaded legs install rate and adjust is fast and convenient, can be used for work plane leveling.It can make loading and unloading reduce the cost of to improve efficiency.It also can be used as auxiliary support when the track drilling rig is working.
using 48V electric starting diesel engine is reduced the operate's labour intensity greatly.Especially in cold season,when diesel engine start hardly,it will show superiority vastly.
the machine is equipped with BW-160 independent mud pump,the pump flow and pressure are big,the maintenance is convenient,the parts of the machine are convenient to buy all over the country.
2. Technical parameters of XYD-200
c
rawler hydraulic core drilling rig
XYD-200 crawler hydraulic core drilling rig

Drilling depth

200m

Maximum opening diameter

75-300mm

Final hole diameter

75mm

Kelly

53/59*4200mm

Drill pipe diameter

50/60mm

Drilling angle

90°-75°

Auxiliary power diesel engine

16.2kw 2200r/min

Structural weight/Size

3000kg 3800*1950*2700

Spindle

Spindle speed

64/128/287/557r/min

Spindle stroke

450mm

Windlass

Single rope lifting force

24kn

Single rope lifting speed

0.12/0.22/0.49/0.95m/s

Drum diameter

140mm

Wire rope diameter

13mm

Wire rope capacity

35m

Derrick

Rated load

5t

Effective height

6m

Tower leg specification

89mm