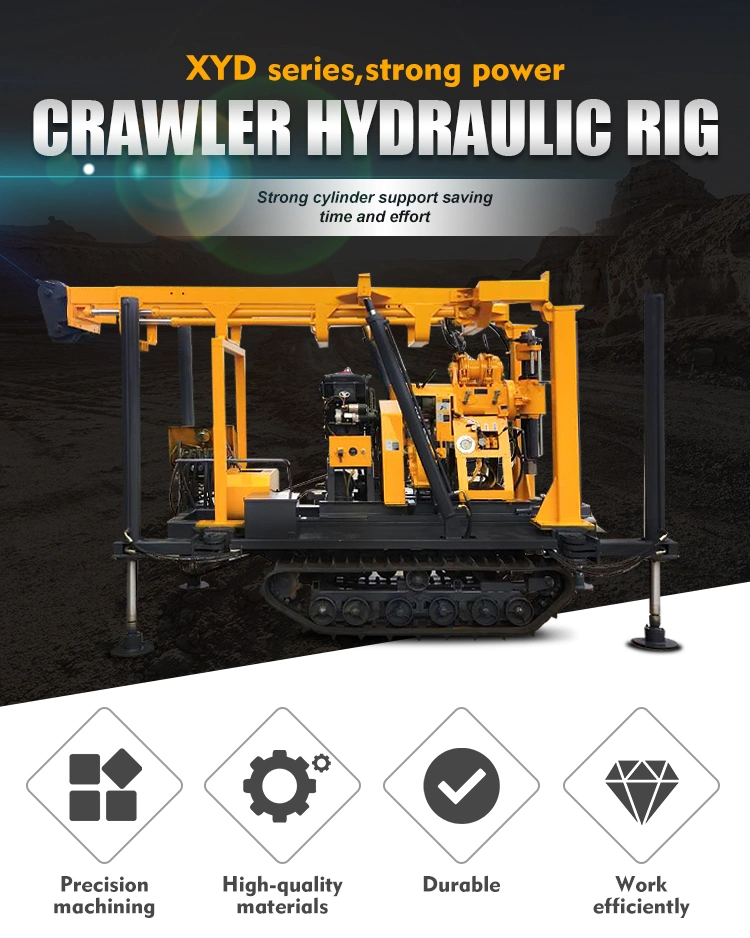 1.The features of XYD-130
crawler
hydraulic
core drilling rig
The drilling rig adopts the automatic Telescopic style with two high strength oil cylinder support, a set of hydraulic valve control rigs operating supine, which is time-saving, safe and reliable
to maximize the benefits for users.
The chassis adopts rubber track, light weight and low life cycle cost, which can reduce noise of vehicle running mechanism, reduce car body vibration, and reduce fuel consumption greatly. It can walk on urban roads without hurting the road surface.
The chassis is equipped with four high strength threaded legs (or hydraulic high leg). The installation and adjustment is fast and convenient. It can be used for leveling of work plane, loading and unloading vehicle, which reduces the hoisting cost and improves efficiency
and works as auxiliary support.
The drilling rig uses 48V electricty to start the diesel engine , which greatly reduces the labor usage, especially in the cold season. When the diesel engine has difficulty activiting, this starting mode shows greater advantages.
2.Technical parameters of XYD-130 crawler hydraulic core drilling rig
XYD-130 crawler hydraulic core drilling rig

Drilling depth

130m

Maximum opening diameter

220mm

Diameter of the end hole

75mm

Drilling rod caliber

50mm

Drilling angle

90°-75°

Drill weight (no include power)

2600kg

Spindle

Spindle speed

142/285/570

r/min

Spindle stroke

450mm

Windlass

Max single line hoisting capacity

1600kg

Single line lifting speed

0.41/0.82/1.64

m/s

Drum diameter

140mm

Wire rope diameter

13mm

Wire rope capacity

27m

Mud pump

Type

horizontal single urn twin-action

Displacement

95 /77L/min

Maximum pressure

1.2mpa

Work pressure

0.7mpa

Water inlet caliber

30mm

Water to exit caliber

20mm

Triangle conveyer belt

B1575mm