Professional Trailer Geological Investigation Core Drilling Rig for Sale
Product Information of XY-600F Drilling Rig Machine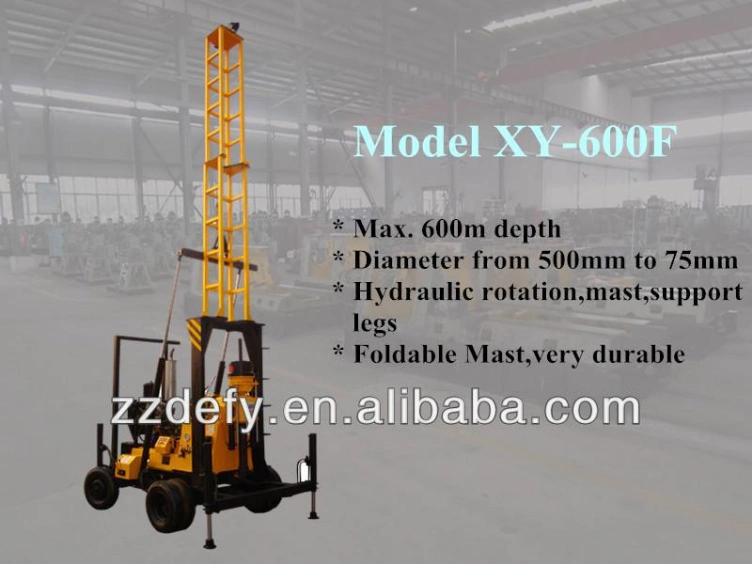 XY-600F hydraulic drilling rig adopts the latest technology for diamond drilling. It is widely used to
drill water well, geothermal hole, mining blasting, geological exploration, water conservancy, etc.
Parameters of XY-600F Drilling Rig Machine
XY-600F Drilling Rig

1. Main Parameters

Max. Drilling Depth

600m

Diameter of drill pipe

Φ42,Φ50,Φ60,Φ76

Angle of vertical spindle

90°~65°

Drilling capability

Φ75mm drill diameter

Max. Depth 600m

Φ108mm drill diameter

Max. Depth 500m

Φ127mm drill diameter

Max. Depth 400m

Φ159mm drill diameter

Max. Depth 300m

Φ219mm drill diameter

Max. Depth 210m

Φ273mm(10-4/5in) drill diameter

Max. Depth 150m

Φ500mm(19-3/5in) drill diameter

Max. Depth 80m

2. Vertical Spindle

Rotation speed

Forward 10 grades

30-1050r/min

Reverse 2 grades

29-137r/min

Spindle stroke

560mm

Spindle bore

96mm

Hoisting capability

6000kg

Max. Torque

3800N.m

3. Main hoist

Lifting speed of single wire

0.5-1.9m/s

Diameter of wire rope

12.5mm

Carry capacity of single wire

4000kg

Diameter of winding drum

300mm

Volume of winding drum

50m

Lifting capability of single wire

3000kg

4.Auxiliary Hoist

Winding drum

140mm

Diameter of steel wire rope

6mm

Volume of winding drum

450m

5. Mud pump(as per your choice)

Horizontal triplex mud pump

BW-200II

Displacement

200L/min

Working pressure

50kg/cm² @ 5MPa

Diameter of water inlet hose

65mm

Diameter of water outlet hose

38mm

6.Power supply(choose one between the following two)

Diesel engine

Model 4100,38

KW

(50PS)

Electrical motor

Y180M-4B35,22kw

7. Weight and Dimension of main drilling rig

Weight

2880kg

Dimension

3700×1850×3200mm

8.Six-wheel Trailer

Walking speed

25Km/hr

Frame carrying capacity

4 tons

Steering wheel

600-14

0.75 tons

Bearing wheel

650-15

0.9 tons

Minimum tur

n

ing angle

6.8m

9. Oil Pump

CBN-F32

Working pressure

20Mpa

Displacement

32L/min
Characteristics of XY-600F Drilling Rig Machine
(1) XY-600F adopts the newest automobile transmission assembly, with 10 grades forward rotation
speed and 2 grades reverse rotation speed, reasonable design, wide speed adjustable range, can
meet various stratum drilling requirements.
(2) Can meet the demand for various high efficiency drilling process needs, such as diamond wire
line coring, impact drilling, reverse circulation continuous coring (sampling) etc.
(3) Strong power, strong torque, strong bearing capacity, convenient to solve different downhole
accidents. Compact mechanical transmission structure, light weight, large diameter of spindle bore,
hydraulic stabilizer legs, good rigidity .

(4) Using hexagonal kelly bar to ensure the stable transmission of torque. Can not only meet the
small-diameter diamond deep hole drilling, but also can satisfy the large-diameter carbide drilling
and different engineering drilling works.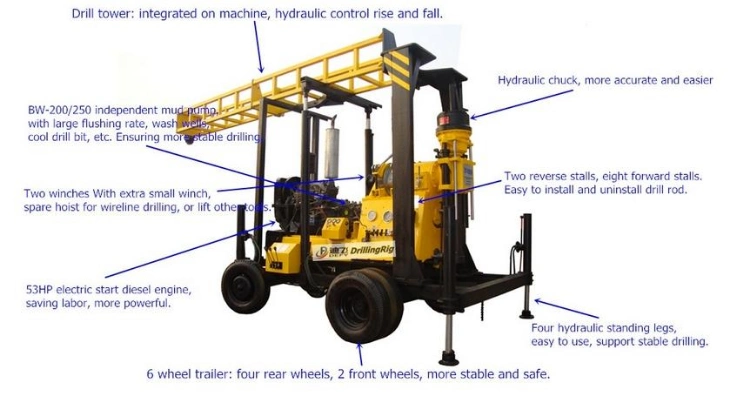 (5) Advanced hydraulic system design makes the control handles concentrated, compact layout
reasonable, easy operation, flexible and reliable; Can realize remote speed change, more
humanization operation.

(6) The hydraulic system can adjust the feed pressure and feed speed during controlling the feed
process, in order to meet different stratum drilling needs. At the same time it is equipped with the
bottom hole pressure indicator, easy to master the situation inside the hole.
(7) The vertical spindle is equipped with hydraulic chuck,using the connecting rod type spring to
clamp, hydraulic chuck to loosen, carbide welding type slips, strong clamping force,long service life
and reliable operation.
(8) Advanced transfer case design, can implement easily independent operation of vertical shaft
and winch.
Working of Drilling Rig Machine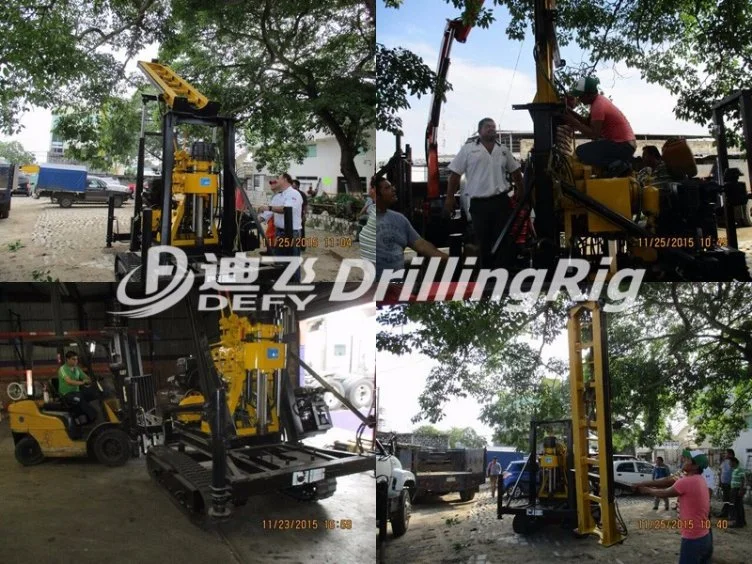 DEFY Service
1.Professional technical support pre-sale, sale and after-sale .
2.Your problems can get feedback in 8 hours and be solved in 24 hours.
3.Machine can be customized as per your requirement.
4.One year quality warranty.
5.Training: operation manual and DVD operation video, overseas installation is also available.
6.Spare parts are available in our factory at cost price for former customers.
Other models for your choice:
Model

Drilling Caliber

Max. depth

Feature

XY100

75~300mm

100m

Disassemble drill tower;

Small in size.

XY-130

75~300mm

130m

XY-150

75~400mm

150m

XY-180

75~400mm

180m

XY-200

75~400mm

200m

XY-200F

75~400mm

200m

Integrative drill tower;

Easy to transport.

XY-200C

75~400mm

200m

XY-600F

75~500mm

600m
FAQ
Q1: Are you trading company or manufacturer?
A1: We are original equipment manufacturer.we design,produce and sell.We master the core
technology, and constantly adjust our products according to the market trend and customer
feedback, ensure product quality.

Q2: How long is your delivery time?
A2: It is according to the model and quantity.
Generally it is 3-5 days if the machines are in stock.
It will be 15-30 days if you want to customize the machines.

Q3: What do I need to do after payment?
A3: a) If under FOB trading terms,you need to employ a ship forwarder to ship the goods to you;
b) Under CIF trading terms,we send the goods to the destination port,and contact you to pick
up the goods; All documents for customs clearance will be sent to you by international
express after shipment.


How to choose a suitable drilling rig?
1. What will you do using drilling rig?
---For water project, core sample, soil test, mineral prospect or others?
2. The depth you need?
---For water well, generally, 30-200m. For core sample, 30-600m, even more.
3. Any requirements to hole diameter?
---Within a certain range, the smaller diameter, the deeper depth. Mathematically, we call it
inversely proportional.
4. Working land condition?
A. soil, sand, weathered land, etc. soft stratum.
B. soil, sand, soft and hard rock stratum, mixed one.
C. Mainly hard rock, like granite.
Based on the above information, Our experienced engineers will help you recommend suitable
machine and price. If you have special demands, please tell us ahead.



About Us
Zhengzhou Defy Mechanical & Electrical Equipment Co.,Ltd. locates in High-tech zone of
Zhengzhou city, China.
Our factory dedicates in manufacturing drilling rig since 1970s, more than 40 years' experience
of production and development makes our product quality rank in the leading position at home and
abroad.
We are always seeking for ever greater perfection, keeping improving the production technology,
offering better user experience.