Rotary Small portable Water Well Drilling Rig trailer mounted CWD300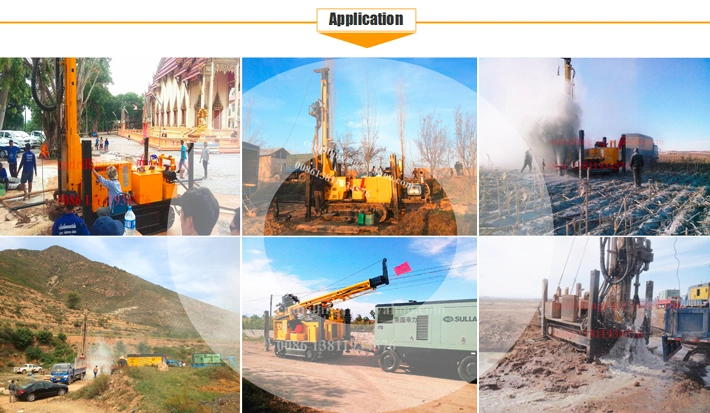 Application
CWD series Multi-functional track mounted water well drilling rig is a efficient,multi-function full hydraulic water
well drilling rig.It is high efficiency because of having a larger torque of the turntable and is mainly used for water
well in industry and agriculture, national defense building foundation, geological exploration, geothermic well and
other foundation working, it is popular at home and abroad.
CWD series crawler mounted drilling rig can drilling in all kinds formations by mud drilling in soft formation and air
DTH hammer in rock drilling,DTH Hammer is applied in rock drilling, slag is discharged by air pressure and the
offstage efficiency is ten times than traditional rotary drilling.CWD series deep water well drilling rigs, in cutting drilling or rotary drilling can be operated in unconsolidated layer,and the slag can be discharged under by mud, the impact drilling operation can also be adopted and slag can bedischarged by pressure air, the hydraulic water well drilling rig suitable for drilling complicated geological
conditions.
Characteristics
1.The drilling rig can use air DTH Hammer drilling and mud drilling.
2.Centralized control console is suitable for each manipulation and control. Rapid pulling and lifting reduce the
auxiliary time and enhance the work efficiency.
3.The main drive system, the transfer case, gearbox, double-winch unit, mud pump, turntable,drilling tower, feed
system are set up on the chassis.
4. It's a hydraulicrotary drilling rig with directional circulation. It can equipped with BW450 mud pump which
adopts the slurry as the washing fluid and can drill on clay, sand and rock if it is equipped with suitable drilling bit.
5. The power of drilling rig comes from a Yuchai engine,80KW drives the large displacement high pressure
plunger pump and it is characterized by powerful dynamic and stable performance.
6. The rotary head,have two gear,rotation speed is 0-80 and 160rpm stepless adjustment and the rotary torque is
6900Nm.
7. The pulling force can be regulated and controlled, which adapt the machine to deep hole drilling.
8. It can set up a generator which is convenient to welding or illuminate for work at night.
9. Main winch are available on the rig so it is high efficiency when the rig drill on mud rock and on the weathering
formation.
10. The main drive of rig is hydrulic and the four landing legs and drilling tower are hydraulic controlled. Transfer
case and mud pump clutch system are also hydraulic operated.
11. The tools winch winch is used for auxiliary lifting and casing,optional main winch force of 4T, rope length of
100m and 8m lifting height.
12. The Hydraulic auxiliary functions are easy and efficient for guide extension, boom swing, boom lift, guide
dumping.
13. Competitive in price, low cost of maintain.
Specification
1.Overall parameters
Drilling depth
100-1000 m
Maximum open hole caliber
140-450 mm
Diameter of drill rod
89/102/114 mm
Drilling angle
90~75
Weight
9-20 T
Dimension
5800*2210*2850 mm
2.Diesel Engine
Brand
Yuchai/Cummins
Power
80-140KW
Service
In our after sales service system, We establish perfect control system strictly according to ISO-9000 series, in this system, technology date and problem solve solution and preventive measures will be provided in any maintain project, all the spare parts will be used in new OEM products with installation instructions, packing list, manufacturer's instruction, qualification and Warranty certificate.
We provide "one equipment & one case, endless service, namely the after sales service begin from the order confirmation, last for the working life of the equipment.

Company profile




Jincheng provide users high quality Mining & Drilling solutions,we always focus on the strategic conception of "Survival by quality, Development by credit''.
We have specilized in research, development and produce of rock blasting drilling rig, water well drilling rig, diamond core drilling rig, anchor drilling rig, and relative accessories & drilling services. constantly provide professional drilling solutions for all customers with our advanced technology, excellent equipment, strict testing means and good service network,which establish our brand "JINCHENG" a good image of market, now,we products account for 50% of domestic market and have beenexport to more than 40 countries, and we awarded ISO9001: 2000 in November, 2002.

Certificate




FAQ
Q: Are you original manufacturer?
A: Yes, we JCDRILL is a official leading manufacture in drilling machinery in China and we have the whole series products you need.
Q: Which payment terms are available to us?
A: T/T term or L/C term. On T/T term, 30% down payment is required in advance, and 70% balance shall be settled before shipment.On L/C term, a 100% irrevocable L/C without "soft clauses" can be accepted.
Q: Which Incoterms 2010 terms can we work?
A: We JCDRILL are a professional and international company, accept all Incoterms 2010 terms, normally we work on FOB, CIF,CFR,CIP.
Q: How long will the delivery time take?
A: Normally mud pump products will take about 3-15 days to produce the ordered machines. Most of the time, we can have an immediate delivery of our regular machines in 15 days.
Q: How about after sales service?
A: 365×24 Year-round Service We are committed to year-round 24-hour service even during holidays, in line with our policy of always providing "a response within 15 minutes and job completion within 24 hours."
Q:Spare Parts When You Need Them
A:We have spare parts centers across continents that stock specialist spare parts. We promise that spare parts will be deliveredwithin 72 hours or no more than one week.