Skid Mounted 130m Portable Coring Rig

Applications
XY-130/180/200 drilling rig is mainly used for geological general investigation and exploration,
road and tall building foundation exploration, kinds of hole in concrete structure, river levees,
civil wells and earth temperature central air-conditioner .
Main Features
a. 53 x 59 drilling rod adopted, high rigidity and strong delivery torque.
b. the machine is equipped with national patent technology---taper clutch, with characteristics of
strong transmission torque, easy operation and free maintenance.
c. for the winch, we use large module planetary gear and add supporting frame, greatly increasing
hoisting and braking ability of the winch.
d. Vertical spindle are fixed by four groups of bearings to ensure that the rotary machine is rigid
enough for gravel layer and other complex geological conditions.
e,additional ,XY-180 with five gears, and the highest speed can reach 1045r/min, improving drill efficiency.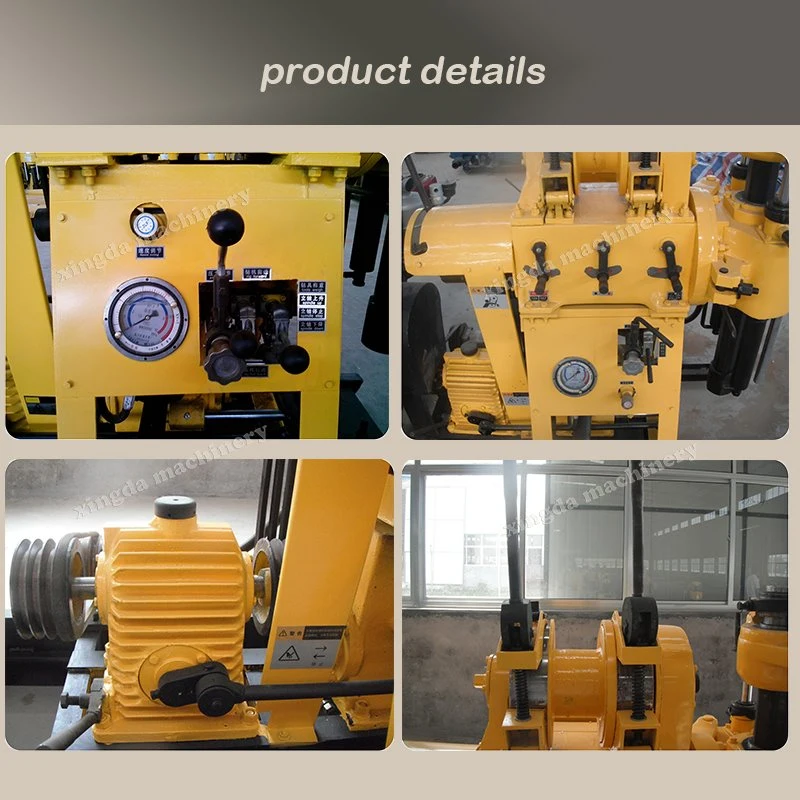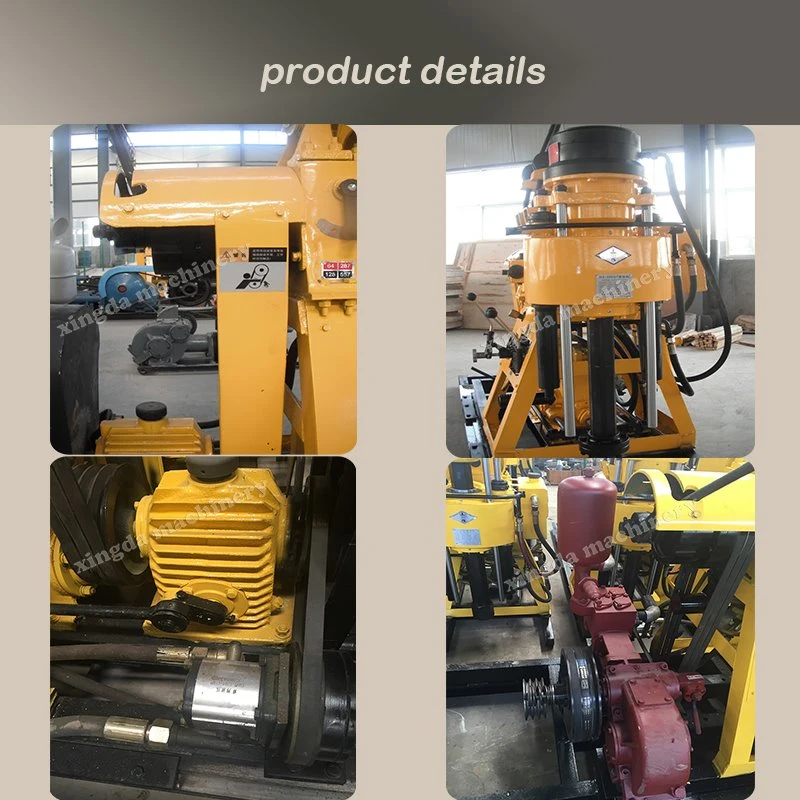 M

ain parameters
Unity machine parameter

M

odel

XY-200

XY-180

XY-130

Drilling depth

200m

30-180m

10-130m

Max open hole caliber

300mm

220mm

260mm

End hole caliber

75mm

75mm

75mm

Drill rod caliber

60mm

42mm

50mm

Drilling angle

90°~75°

90°~75°

90°~75°

Drill weight (without power)

975kg

610kg

510kg

Power

Diesel engine 22HP

Diesel engine




18HP

Diesel engine




18HP

D

imension

2.7*0.9*1.5

2.4*0.8*1.3

2.4*0.8*1.4

Spindle

spindle speed

64, 128, 287, 557r/min

130,300,480,730,




830,1045r/min

142,285,570r/min

Spindle stroke

450mm

450mm

450mm

Hoist

Max.lifting capacity

2500kg

2100kg

2000kg

Single line lifting speed

0.41, 0.82, 1.64m/s

1.06,0.67,0.32m/s

0.41,0.82,1.64m/s

Wirerope caliber

13mm

13mm

13mm

Wirerope length

35m

35m

27m

Mud pump

Type

Horizontal single-urn twin-action

Horizontal single-urn twin-action

Horizontal single-urn twin-action

Displacement

Diesel

engine170L/min




Electric motor 150L/min

170L/min

95/77L/min

Maximum pressure

3Mpa

1.5Mpa

1.2Mpa

Work pressure

1.5Mpa

0.7Mpa

0.7Mpa

Inlet pipe caliber

51mm

51mm

51mm

Outlet pipe caliber

38mm

32mm

32mm

Triangle conveyer belt

B1728mm

B1728mm

B1575mm