Spt test core drilling machine 130m dimond drill diamond core rig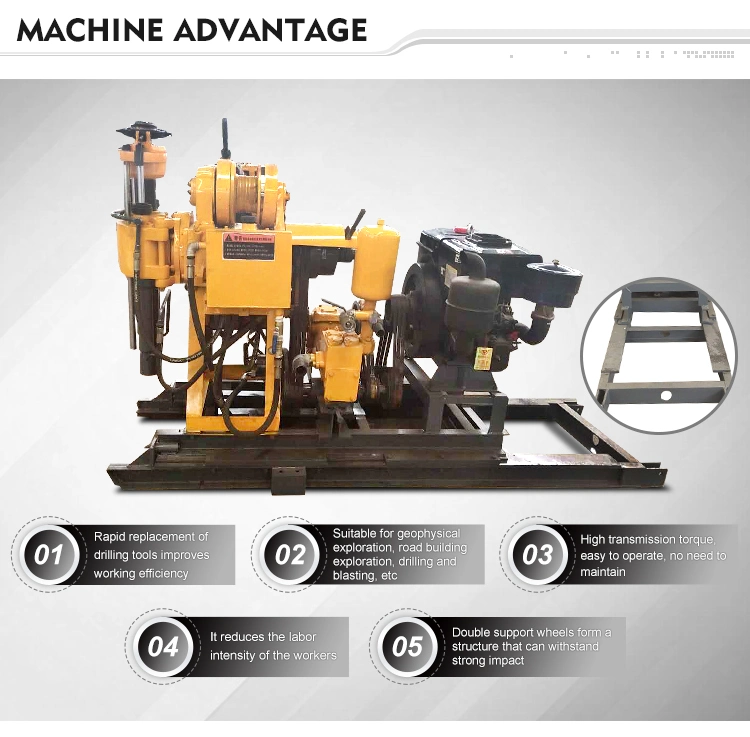 1.Brief introduction
s
of HZ-130YY
h
ydraulic
core d
rilling rig
HZ-130YY hydraulic
core
d
rilling
r
ig
adds shifting slipway
on the basis of common drilling
rig
, which can realize rapid replacement of drilling tools and improve work efficiency and reduce labor usage.
2.Applications of HZ-130YY
h
ydraulic
core d
rilling rig
this core drilling rig is suitable for drilling water well, soil exploration, geophysical exploration, road and building exploration and drilling blasting holes.
drilling bits can be chosen according to the different soil condition, such as alloy, diamond and composite.
2-9 grades of sandy clay and rock.
3.Features of HZ-130YY h
ydraulic
core d
rilling rig
the automatic feed mechanism with oil pressure can improve the drilling efficiency and reduce the labor intensity of the workers.
the ball card holding mechanism is used instead of the chuck, which can be operated without stopping the rod, and the operation is convenient, safe and reliable.
hoist is installed with holder, forming structure of double support wheel so that it can withstand strong impact
four groups of bearings are located in the vertical shaft box to ensure that the gyration is rigid enough to cope with the complicated geological conditions such as the gravel layer, the pebble layer and so on.
This drilling rig adopts the conical clutch, which has the characteristics of large transmission torque, convenient operation and no maintenance.
4.Technical parameters of HZ-130YY h
ydraulic
core d
rilling rig
HZ-130YY hydraulic core drilling rig

Drill hole depth

130m

Maximum opening diameter

75-220mm

Final hole diameter

75mm

Take the initiative to drill pipe

53/59*4200mm

Drill pipe diameter

50mm

Borehole inclination

90°-75°

Power(diesel engine)

13.2kw 2200r/min

Size

850kg/2400*950*1400

Vertical shaft

Vertical spindle speed

142/285/570r/min

Vertical stroke

450mm

Hoist

Single rope lift

9.6kn

Single rope winding speed

0.41/

0.82

/1.64m/s

Drum diameter

140mm

Diameter of wire rope

9.3mm

Wire rope capacity

27m

Derrick

Rated load

2t

Effective height

6m

Towerleg specifications

73mm

Mud pump

Model

BW95

Flow

95l/min

Maximum pressure

1.2mpa

Reciprocating frequency

93r/min

Suction pipe diameter

51mm*4.5m

Diameter of high pressure pipe

32mm*6m