421T 422 Full Hydraulic Surface Drill RiCrawler Blast Hole Drill Rig for Mining Blast Hole Borehole Drilling Machine
With over 20 years of experience designing and building state of the art geothermal drilling rigs and water well drilling rigs, ABT is the optimal choice for geothermal well drilling equipment and rigs. Our rigs are engineered specifically with the customer in mind: combining low maintenance, high dependability, and advanced high-pressure hydraulics systems means that our rigs are unsurpassed in the market today.
With pride, we say that one of our key point is reliability. The normal life of ANBIT rigs is 35/40 years, with simple and appropriate maintenance and few spare parts.
By choosing ANBIT our customers make a lifetime investment and, thanks to high performances of the rig, this investment will be soon repaid, by a fast and problem-free everyday drilling work.
ZGYX - 422 / 422A Full Hydraulic Top Hammer Surface Drill Rig
Product Features:
Feed system consisting of hydraulic braking motors, chains, sprocket wheels & hose reel, realizing fast / slow feeding & lifting, and hose auto following & tensioning

Two-stage dry type powerful dust collection system for dust free drilling

High frequency hydraulic drigter & anti-jamming system for smoother drilling

Electronic impulse lubrication, for longer service life of drill tools & more convenient operation

Heavy duty chassis & oscillation oil cylinders for powerful off-road performance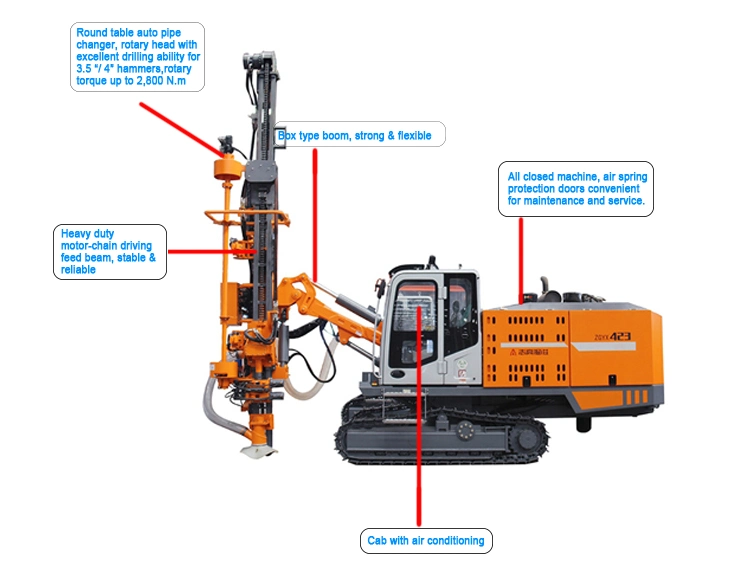 Main Specifications
Drifter

Model

ZY103

Manufacture

Zhigao

Hole range

42-89mm

Rotation speed

0-192rpm

Rotation torque

Max.860N.m

Hole depth

13.5M

Max. Impact power

15kw

Cummins engine

Rated power

93kw

Boom & feed

Boom angle

71º/105º

Boom swing angle

"-25º-+35º

Tilt angle

"-54º-+50º

Swing angle

"-92º-+15º/-54º-+50º

Feed/Pull up force

16KN/16KN

Drill rod length

3.66m(LF-6095mm)

Rod changer an #S of rods stored

3+1(Manual)

Screw air compressor

Air consumption

3.4m3/min

Max. Working pressure

7 Bar

Chassis

Max. Climbing ability

25º

Ground clearance

340mm

Track frame oscillation

±10º

Tra;mming speed

Fast:4.5km/h,Slow:2.3km/h

Dimension(No options)

Weight

10,500kg

Width

2,430mm

Length

11,300mm

High

2,900mm
Application
Crawler Down the Hole drilling rig ,for open pit mining , quarries and construction work sites, equipp with dry dust collector,more environment friendly and energy saving.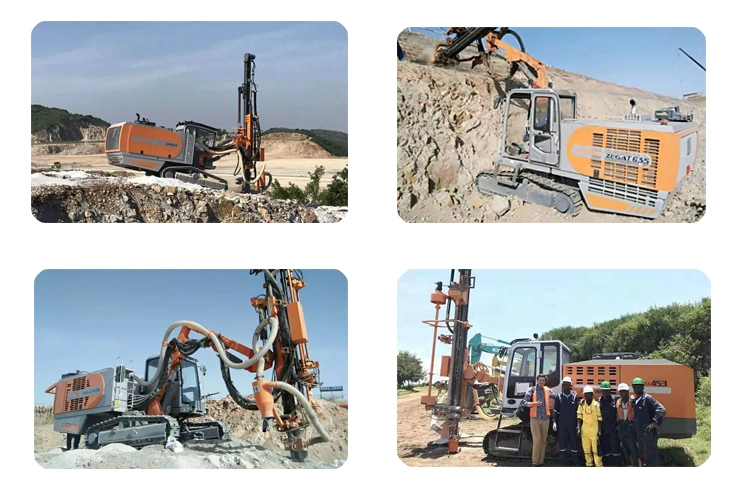 Company Information
ABT Drilling Equipment Co., Ltd. mainly provides holistic drilling solutions, serving the mining, stone crushing, water conservancy drilling industry, to help you solve the problem of drilling at high efficiency and low cost. We mainly provide mobile air compressors, drilling rigs, hammer, drill bit, crushers, underground water detector.We are your trustworthy partner.