Water Drilling Rig Machine JDL-300 Crawler Water Well Drilling Rig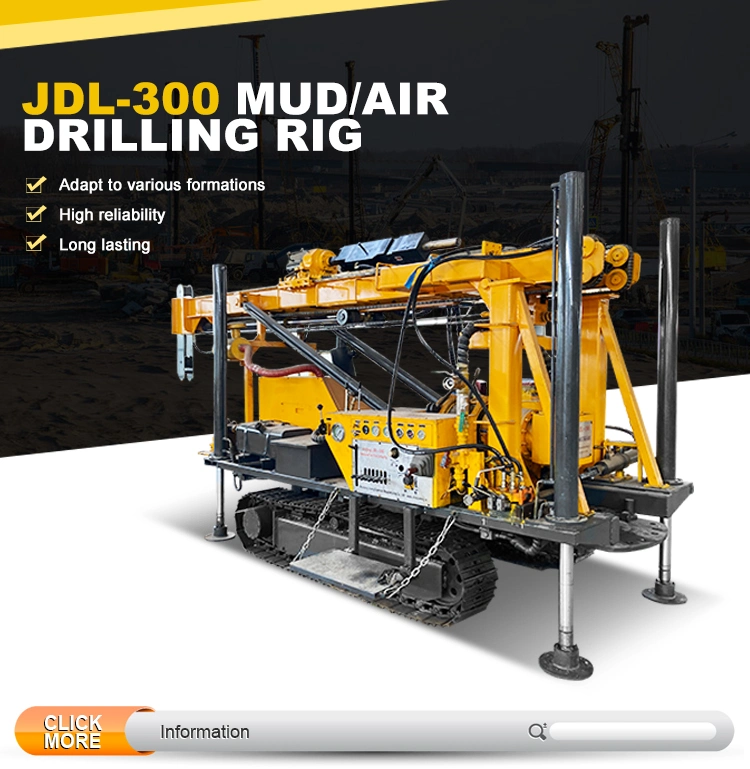 1.Introduction of JDL-300 mud/air drilling rig
JDL-300 mud/air drilling rig is a water well drilling rig that mix mud drilling rig and air drilling rig in one equipment with mechanical top head. It is a good solution to the difficulty of drilling in the soil layer for DTH rig and the low efficiency of drilling for mud rotary rig in the hard rock, gravel and pebble layer. The mud/air drilling rig adapts to various soil strata. The mud/air drilling rig is efficiency and energy saving to drill water well and geological exploration of core sample.
2.Features of JDL-300 mud/air drilling rig
·
The rig can be equipped with a five-speed manual integrated gearbox, hydraulically separated bearings, full synchronizer shifting, high reliability and long service life. ·The drilling rig adopts a mechanical winch, which has a fast lifting speed and is easy to handle the bottom hole accident.
JDL-300Mud/Air Drilling Rig

Working stratum

(F6~20)




Loose soil layer and bed rock(hardness:F6~20)

Drilling method

Mechanical top head rotation, hydraulic feeding, work with mud pump or DTH.

Drilling capacity

Φ42

Mud drilling depth

530m

NQ wireline coring

600m

Φ75

Air Drilling depth

300m

Borehole dia.

≤Φ350

Power

Diesel engine model

YN27

Rated power

42kw

Rated speed

2400rpm

Drive head

Rotary speed

50~10200r/min

Max. torque

5000N.m

Feeding system

Lifting capacity

4T

Thrusting capacity

2.1T

Winch capacity

Hydraulic tool winch(optional)

1.5T

Mechanical winch

4.5T

Drill pipe

Drill pipe dia.

Φ76/Φ89/Φ102

Drill pipe length

3000mm

Crawler chassis

Walking speed

0~2km/h

Climbing angle

20°

Dimension

Transport

5380*1575*2500mm

Working

3480*1575*6280mm

Weight

4380kg

Air compressor

Air pressure

10.5~24.6bar

Air consumption

16~35m?/min