Drill up to 200m, hole diameter 75-400mm, portable core drill with all the accessories!
Portable core drill for soil investigation & geological exploration XY-200
1. Application
-- Water well
- -Core sampling drill and SPT
--Geological Exploration and Prospecting
- -Geothermal wells
- -Blast-hole
-- Irrigation projects
2. Features
1. Hydraulic Control System
Automatic up and down of the hoist and drill rod. Very convenient and time-saving.
2. Two Kinds Power Supply
Diesel engine or Electrical motor as per your quest
3. Various Drilling Bits
Three-wing Bit, Alloy Bit, Diamond Bit to drill soft and hard rock, especially diamond
Bit effective in hard rock.
4. Mobile base
Two or four wheels mobile base can be on tractors, trailers or cars. Very convenient
For outdoor and rugged place.
5. Assemble and dissemble
Easy operation and one person is able to carry it.
3. Drilling rig Manufacturer DEFY Serive
1. Professional techinical support pre-sale, sale and after-sale.
2. Your problems can get feedback in 8 hours and soloved in 24 hours.
3. Machine can be customized as per your requirement.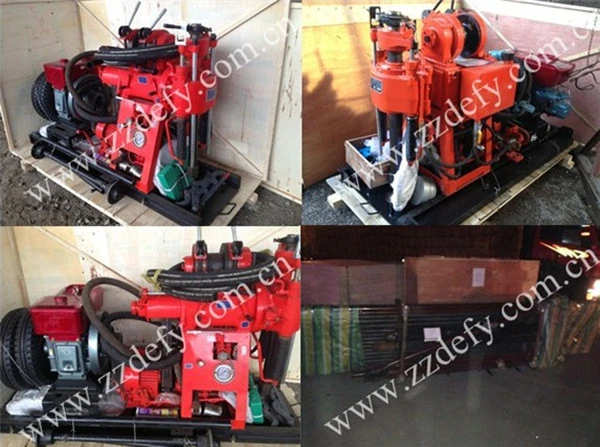 Technical Parameters.
1

,

Main parameter

Drilling depth

200m

Maximum

borehole caliber

400mm

Minimum borehole

caliber

75mm

Diameter of

Drill

pipe

42,50,60mm

Drilling angle

90

°

~75

°

W

eight(No

t

include power)

810kg

Unity machine dimension

275

0

*95

0

*16

00m

m

2

.

Vertical Spindle

Spindle

rotating

speed

64,128,287,557r/min

Spindle stroke

450mm

3

.

Hoist

Max.

s

ingle line

lif

ting capacity

1600kgf

Reel lifting speed

17,35,75,151m/s

Steel wire rope diameter

12mm

Steel wire rope

volume

26mm

Hug floodgate

diameter

245mm

Hug floodgate belt width

70mm

Movable distance

400mm

4. Mud pump

Type

BW-160

Type

Horizontal Single Cylinder with 2 purpose

Max. Discharge

Diesel engine

160L/min

Electrical Motor

140L/min

Max. Pressure

1.2MPa

Work Pressure

0.7MPa

5. Power

Diesel engine

22HP

Electric

15KW

6. Drilling tower

Type

Integrated on drilling rig

Control system

Hydraulic

7. Trailer chassis

Type

4 wheels

Support legs

Mechanical or hydraulic type