ZGYX - 424 Integrated DTH Drill Machine Crawler Rock Drill Rig for Mining Borehole Drilling Rig
With over 20 years of experience designing and building state of the art geothermal drilling rigs and water well drilling rigs, ABT is the optimal choice for geothermal well drilling equipment and rigs. Our rigs are engineered specifically with the customer in mind: combining low maintenance, high dependability, and advanced high-pressure hydraulics systems means that our rigs are unsurpassed in the market today.
With pride, we say that one of our key point is reliability. The normal life of ANBIT rigs is 35/40 years, with simple and appropriate maintenance and few spare parts.
By choosing ANBIT our customers make a lifetime investment and, thanks to high performances of the rig, this investment will be soon repaid, by a fast and problem-free everyday drilling work.
We developed this model of low cost high performance, eco-friendly, safe, compact & high efficiency separated DTH drill rig, widely used in various surface mines, quarries , & construction work sites , etc. This model is the new generation of Zhigao classic product series. With the COLLECTIVE advantages of various different models, this machine with hole range of 105-152 mm adds oscillation which 420 lacks and still lower priced than 430 , and with many surprises due to many detail optimization.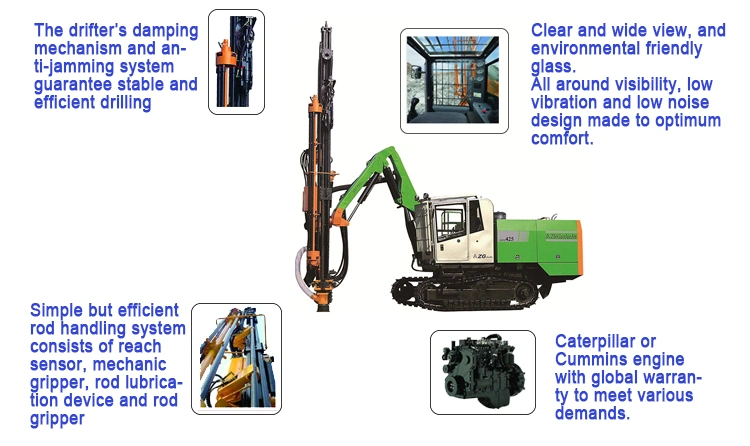 Main Specifications
ZGYX-424 Parameter

Drifter

Boom & feed

Model

ZY-104

Boom angle

"-20º~+30º

Manufacturer

Zhigao

Boom swing angle

left20º right30º

Hole range(mm)

76~115

Tilt angle

Front 60º back85º

Rotation speed(r/min)

0~135

Swing angle

Left 95º right 15º

Max. Rotation torque(N.m)

1460

Rock drill stroke(mm)

4200

Max. Impact frequency(HZ)

60

Feed/Pull up force(kn)

22

Drill Rod Type

T45 or T51*3.66m

Feed Force(mm)

1400

Hole depth(m)

25

Length of Feed Beam(mm)

7257

Max. Impact power(kw)

20

Drill rod length(mm)

3660

Engine

Rod changer and #S of rods stored

Standard 6+1

Manufacturer

Cummins

Chassis

Model

6CTA8.3-C240

Climb Ability

25º

Rated power(kw)

179

Ground clearance(mm)

460

Speed(rpm)

2000

Track Oscillation

±10º

Fuel Tank Capacity(L)

310

Tramming Speed(km/h)

3.5

Screw air compressor

Largest traction(kn)

112

Manufacturer

Zhigao

Weight & Dimensions

Air End Manufacturer

HANBELL

W(mm)*L(mm)

2370*10750

F.A.D

8m3/min

Transport height(mm)

3200

Working Pressure

10 bar

Weight KG(No accessories)

17300
Application
Crawler Down the Hole drilling rig ,for open pit mining , quarries and construction work sites, equipp with dry dust collector,more environment friendly and energy saving.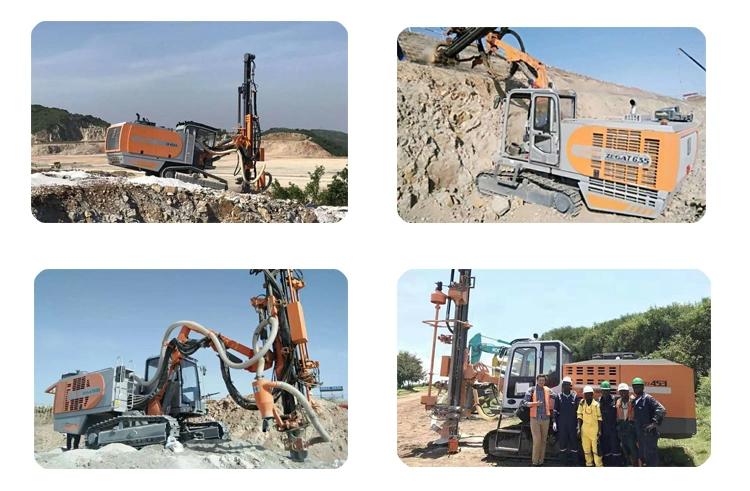 Company Information
ABT Drilling Equipment Co., Ltd. mainly provides holistic drilling solutions, serving the mining, stone crushing, water conservancy drilling industry, to help you solve the problem of drilling at high efficiency and low cost. We mainly provide mobile air compressors, drilling rigs, hammer, drill bit, crushers, underground water detector.We are your trustworthy partner.