XY-200 200m trailer mounted water well drilling rig equipment Borehole Drilling rig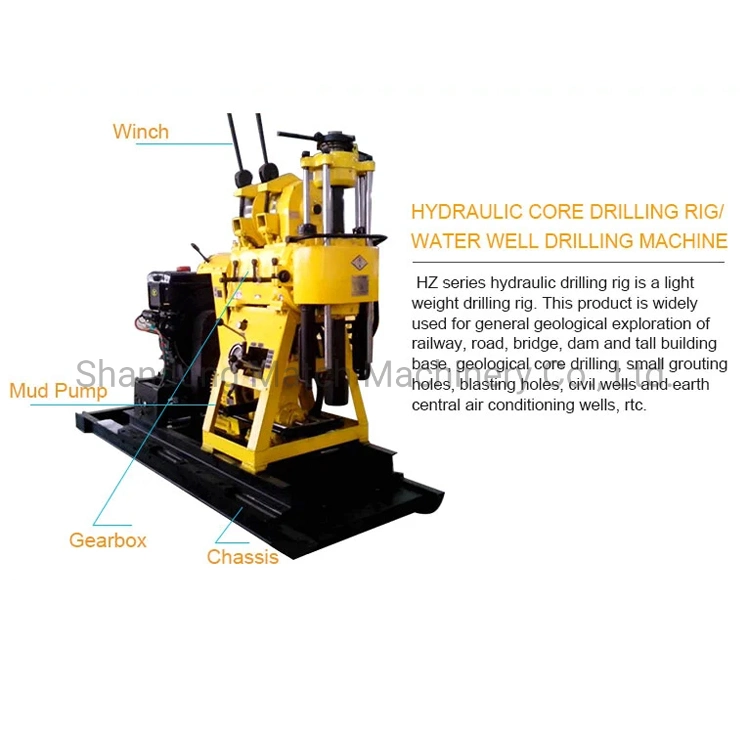 Main features
1.The drilling rig adopts automatic telescopic drilling tower, be supported with two high strength oil cylinder. One set of hydraulic valve controls drilling tower's pitching. When you operate, it is saving time, safe and reliable, the maximum to create benefits for the user.

2. wheels trailer is lighter and can reduce the noise of the vehicle running mechanism, reduce car body vibration and fuel consumption. It can drive in the city road.

3. The chassis comes with its own screw leg to level drilling rig. It can be modified hydraulic high leg for auxiliary support.

4.By using 24 v electric starting diesel engine to reduce labors' intensity of operators especially in winter. When diesel engine start difficulty, it show significantly more advantages.

5. The machine is matched with Bw - 160 mud pump with high flow rate,high pressure, easy to maintenance. And spare parts is convenient to buy all over the country.
Technical parameters

Max drill depth

200m

Hole diameter

φ75-φ300mm

End Hole diameter

75mm

Kelly diameter

53/59*4200mm

Drill rod diameter

φ50,φ60mm

Drill hole angle

90°~75°

Power(Diesel engine)

15/2200kW/r/min

Weight of structure /size

1150kg/2700*950*1770

Spindle

Spindle speed

64,128,287,557r/min

Spindle stroke

450mm

Winch

Max lifting capacity

24kN

Single line lifting speed

0.12,0.22,0.49,0.95m/s

Roll dia

φ140mm

Wirerope dia.

φ13mm

Winch roll capacity

35m

Drill tower

Rated load

5t

Useful Height

6m

Tower leg dimension

φ89mm

Mud pump

Item

BW145

Flow

145L/min

Max press

2Mpa

stroke

93T/min

Inlet tube dia.

φ51mm*4.5m

Outlet tube dia.

φ32mm*6m