Full Hydraulic Portable Type Horizontal Drilling Diamond Core Drilling Rig

Application
XDQ -- 1200 type full hydraulic core drilling machine is a kind of core drilling machine independently researched and developed by our factory on the basis of comparing the advantages and disadvantages of similar equipment at home and abroad and aiming at the technical characteristics of rope coring. It is specially designed for mountainous and hilly areas and is suitable for middle and deep hole coring drilling.The drilling machine is mainly used for core drilling of diamond composite sheet and hard alloy.It can be used in geological,prospecting, hydrological well, shallow oil and gas fields.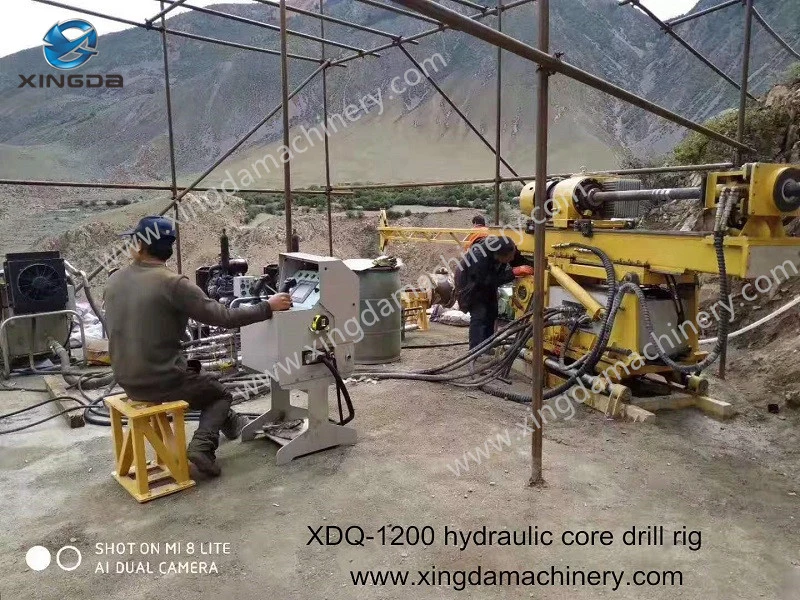 Feature
1,Block design, no more than 200 kg single module, easy to move.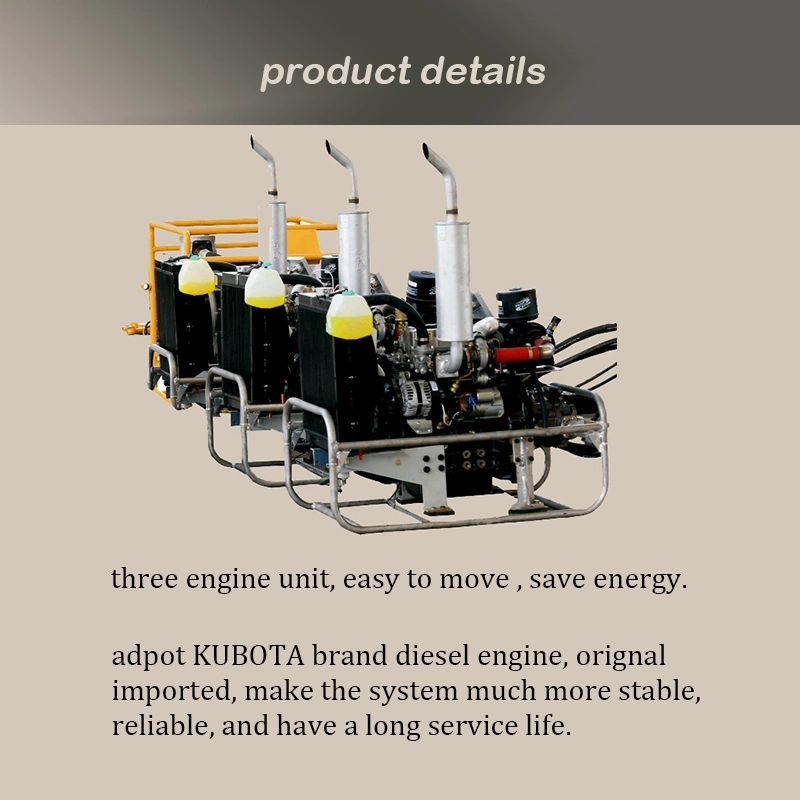 2,Constant pressure drilling control system (patented technology), automatically set constant pressure drilling,
improve drilling efficiency, ensure hole quality;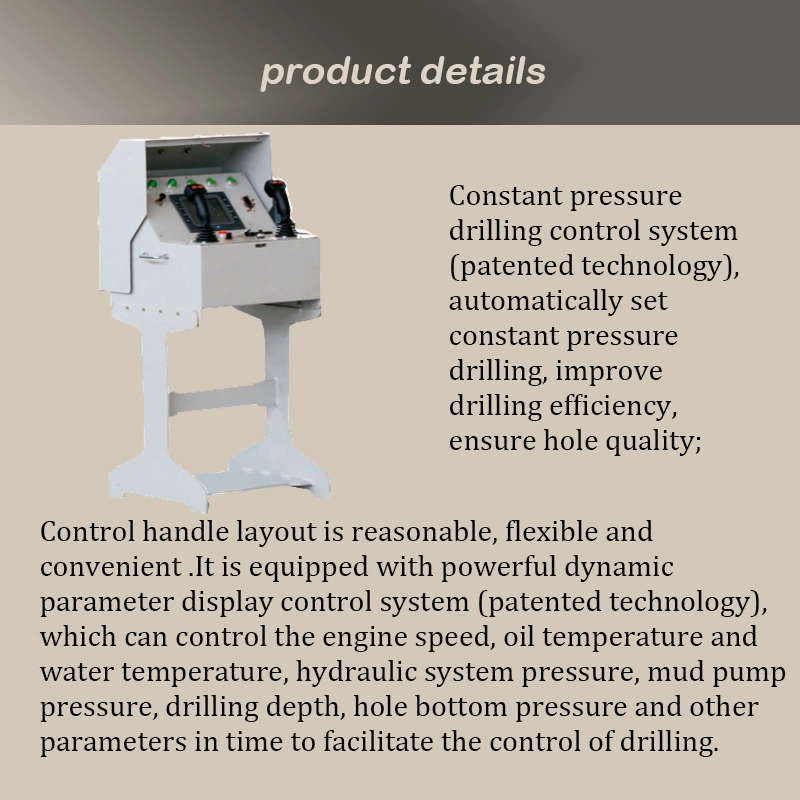 3,Powerful dynamic parameter display control system (patented technology);
4,The main components of the drilling rig hydraulic system are imported brands, and the general
components are domestic famous brands. The system is stable, reliable and has a long service life.
5,The power head transmission adopts the electro-hydraulic transmission, which can realize
the stepless transmission within a certain range, and is equipped with a 4-speed transmission;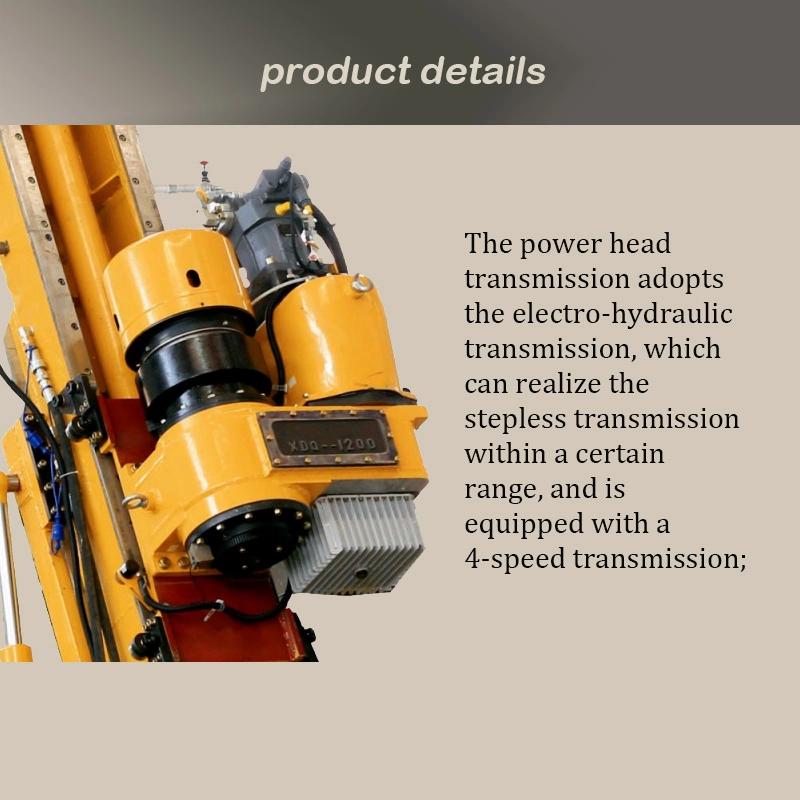 6,Adopting direct acting load feedback fine-tuning variable hydraulic system , the power changes with the load,
high efficiency, low energy consumption (the system has been successfully applied in various series of drilling
machines in our factory);
7,Control handle layout is reasonable, flexible and convenient .It is equipped with powerful dynamic parameter
display control system (patented technology), which can control the engine speed, oil temperature and water temperature,
hydraulic system pressure, mud pump pressure, drilling depth, hole bottom pressure and other parameters in time to
facilitate the control of drilling.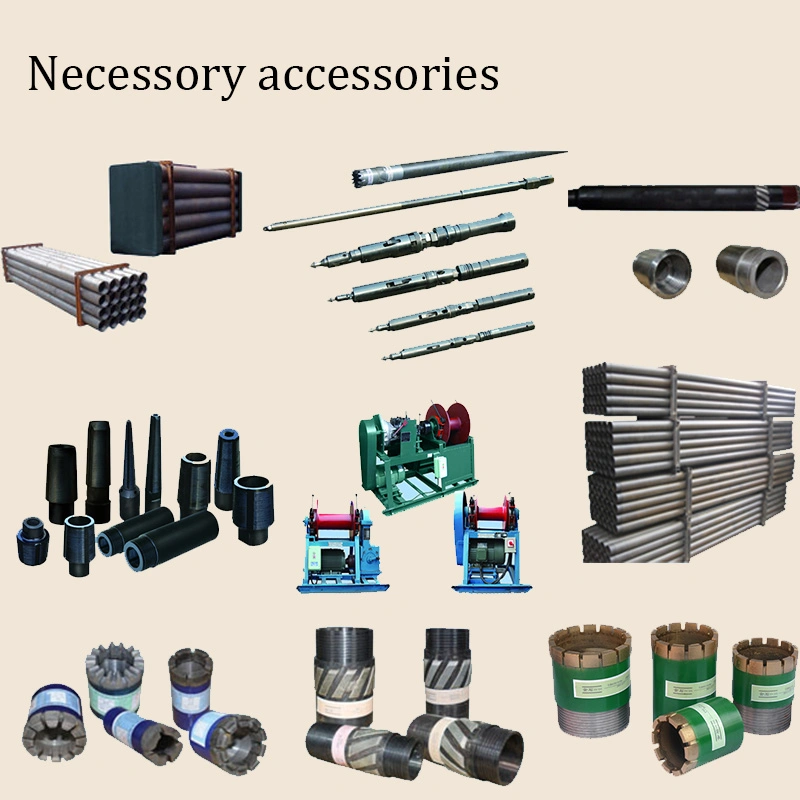 Main technical parameters
Power head
Bore diameter Ф94 mm

Gear

Rotate speed
Torque
1
0~97r/min
4333 Nm
2
0~330r/min
1282 Nm
3
0~552r/min
766 Nm
4
0~981r/min
431 Nm
Hydraulic chuck
Spring clamp hydraulic open
Clamping force:392 kN
Power head maximum stroke
1700 mm
Maximum lifting force
120 kN
The power head permits add force
60 kN
Drill rod diameter
BQ 1200 m
NQ 800 m
HQ 600 m
Drilling angle
0~ 90°
The power head rises and falls slowly

Automatic constant pressure drilling

The power head rises and falls rapidly
Fast - slow CVT
Diesel engine
Brand :KUBOTA
Model :V1505-T
Power :33 Kw
Rotate speed:3000 rm
Winch
Empty drum lifting force:76 kN
Speed (empty drum):50 m/min
Rope capacity :60 m/φ22 mm
Auxiliary winch
Empty drum lifting force:3.3 kN
Full drum lifting force:3.3 kN
Speed :160 m/min
Speed (full drum):375 m/min
Rope capacity :1200m/φ5 mm
Column stretch
400 mm
Deputy tower height
2.7 m
Dimension
(working mm)2600×1000×6400
(transporting mm)3300×1000×1700
Weight
2900 kg
W
eight of rig after dis-assembly
Power head
Spindle gearbox
Gearbox and motor
Spindle chuck
160 Kg
180 Kg
200 Kg
Column
Main tower:130 Kg
Auxiliary tower:
80 Kg
Power head slide block
55 Kg
Lower slide block
70 Kg
Clamp holder
100 Kg
Chassis
70 Kg
Rack
100 Kg
Auxiliary winch
(without rope)
170 Kg
Main winch
(without rope)
300 Kg
Engine unit
200*3 Kg
Hydraulic tank
200 Kg