KW200 DTH crawler mounted portable water well drilling rig machine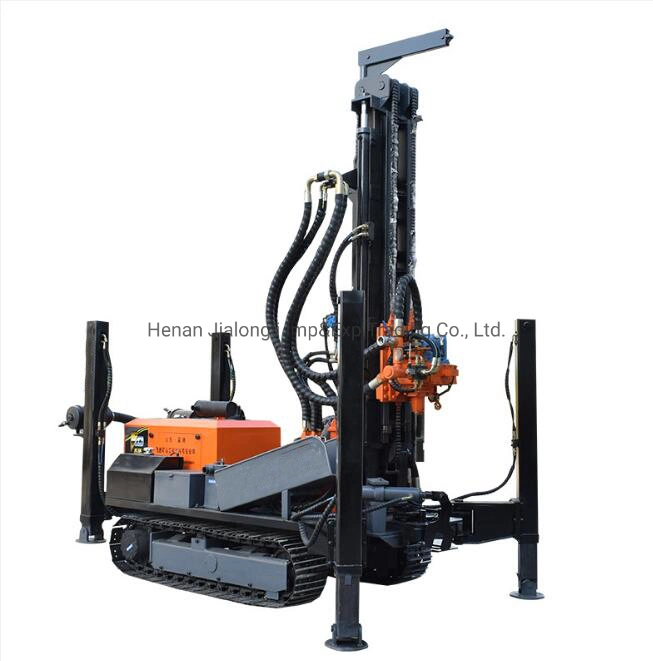 KW200 Water Well Drilling Rig
High Quality, Low Price.
Easy Maintenance, Long Service Life,
65KwTurbocharge Engine
Drilling Diameter to 305mm
Drilling Depth to 200 meters
KW200 Water well drill rig is upgrade from
KW180
R
, compared with KW180
R
bore well drill rig, KW200's drilling diameter can reach to 305mm, and the drilling depth also can reach 200 meters, engine power also upgrade from 55Kw to 65Kw, besides, the lifting force for KW200 is 20 tons, and operation panel more simple and convenient for the operator, at the same time KW200 equipped with steel crawler, which is more durable and have long service life, can adapt more tough working condition, of course if you like the rubber crawler, it is also optional.
| | |
| --- | --- |
| Model | KW200 |
| Drilling depth | 200m |
| Dia.hole | φ140-305mm |
| Advance Length one time | 3.4m |
| Working pressure | 1.7-3.0MPa |
| Air consumption | 15-31m³/min |
| Length of rod | 1.5m,2m,3m |
| Dia. Of rod | φ76, φ89,φ102 |
| Lifting power | 20T |
| Rotation torque | 4200-5600N.m |
| Rotation Speed | 40-70r/min |
| Diesel Engine | Quanchai |
| Engine Power | 65Kw/2200rpm |
| Travelling speed | 0-2.5 Km/h |
| Climb capacity | 30° |
| Weight | 5600kgs |
| Dimension | 4000x1800x2350mm |
| Application | Complicated geological conditions:Rock,Mud,Sand etc. |
| Drilling Way | Top drive hydraulic rotary and propulsion,Dth Drilling or Mud Pump Driling |
| Dth Hammer | 4",5",6",8" Drill hammer or CIR110, 130, 150,170 |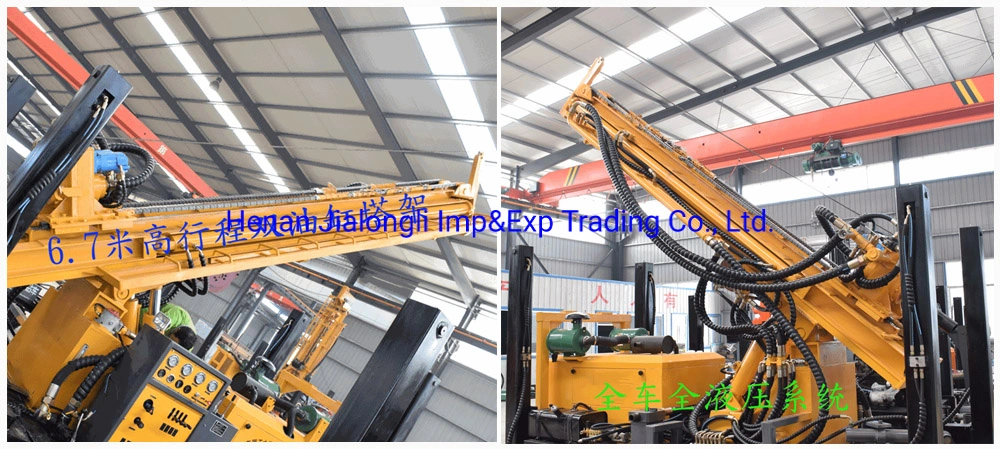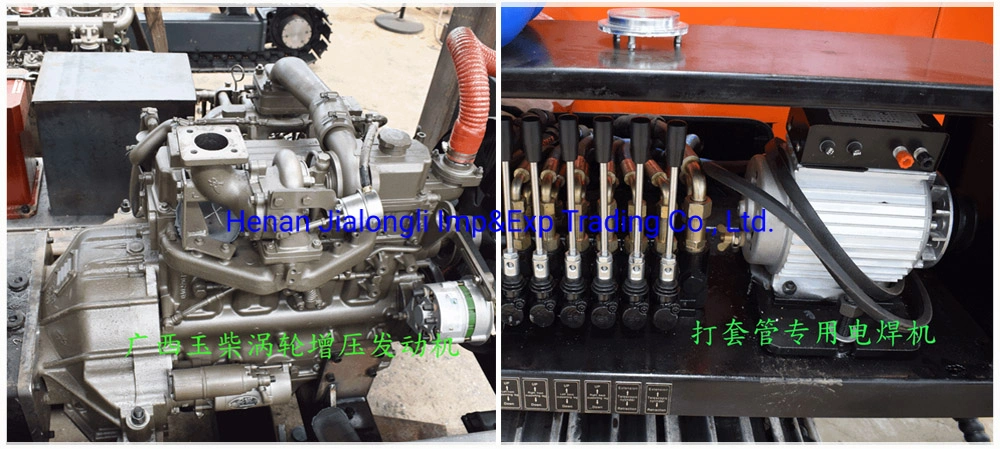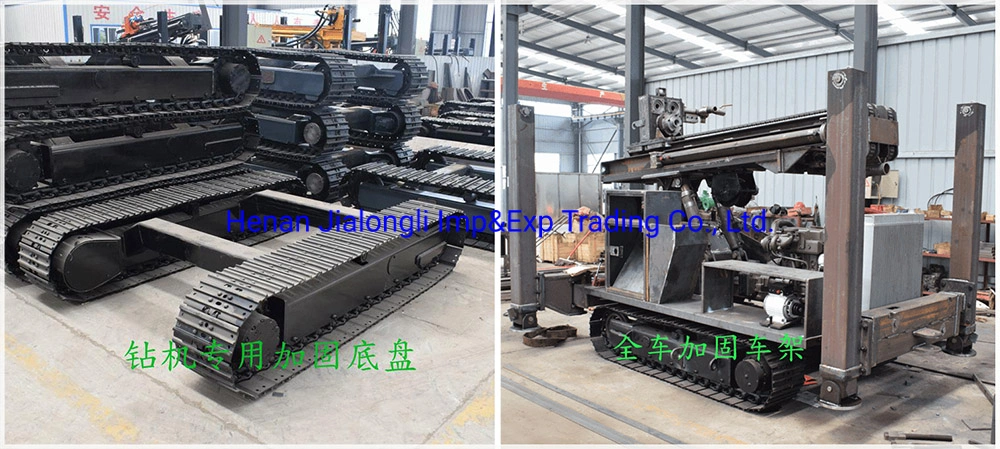 Charactors
1.Equipped with 65KW Yuchai brand turbocharged engine, strong power;
2. Patented design composite boom, double cylinder lift, long stroke, large tonnage
3. The main boom of each rig is equipped with a stopper to protect the cylinder;
4.Drilling machine chassis: professional excavator chassis ,durable,heavy bearing capacity,wide chain plate, less damage to hard road.
5.Parallel gearbox design, separate oil pump, sufficient power supply, reasonable distribution, unique design of hydraulic system, simple maintenance and low cost
6. The travel motor is equipped with reducer, durable and long service life;
7.Dust-reducing device: effectively reduce dust pollution, for potholes, tunnel construction.
8.Fast distribution valve: the speed of three gears up to 150-160 rpm, basically achieve the dual-use function of water and air
9. Each hydraulic hose is covered with soft management set to make the hose last longer.
10. The rig power is driven by the diesel engine, and the rig's walking, turning, propulsion, lifting, outriggers, and unloading rods are all controlled by hydraulic pressure.
11.The rig's walking is a crawler-type self-structure, which is easy to move. Its rubber crawler-type chassis makes it easy to walk in the city and the courtyard, and it is not easy to damage the ground.
12.High and Strong hydraulic legs allow quick and stable adjustment of the rig's body level for easy loading and unloading and shifting positions.
13.Dedicated wellhead setting provide a the certain center for drilling to ensure the vertical opening and positioning accuracy
14.Mechanical positioning of the carriage and frame improves the stability of the carriage
15.The pneumatic system has a custom oil injector that lubricates the impactor, effectively increasing the life of the impactor.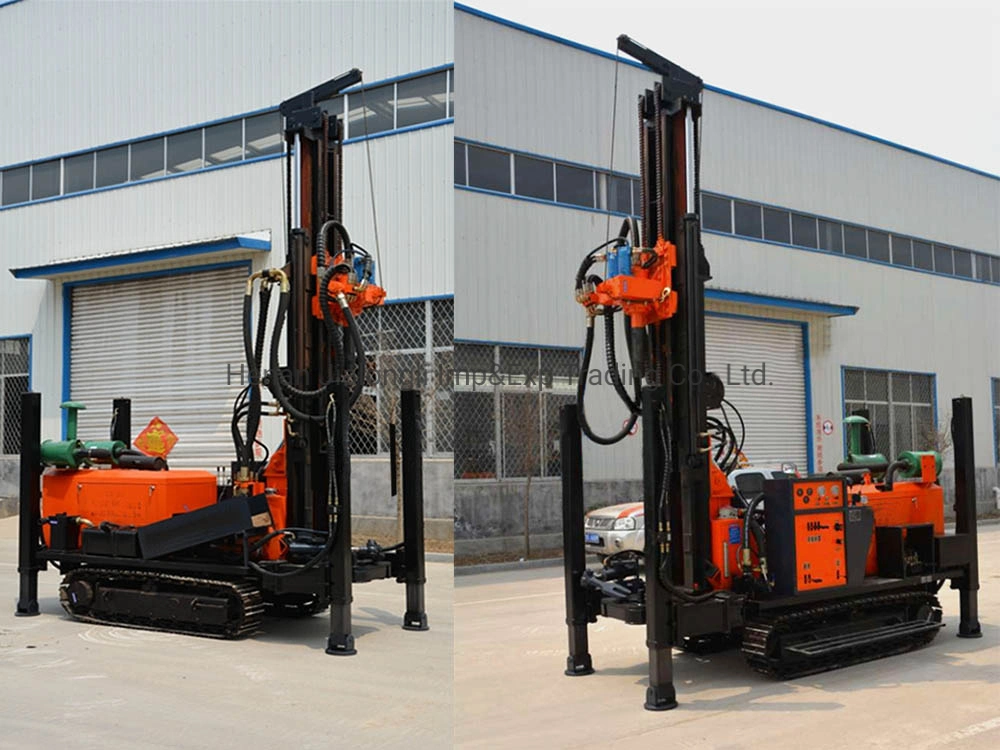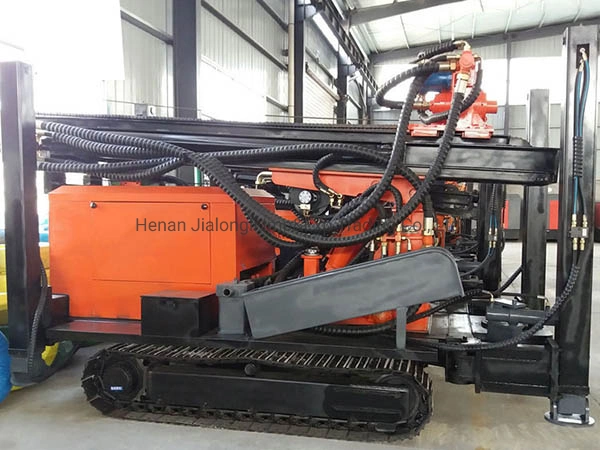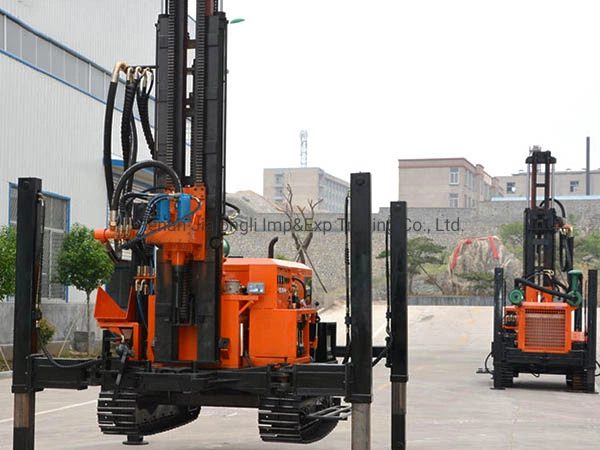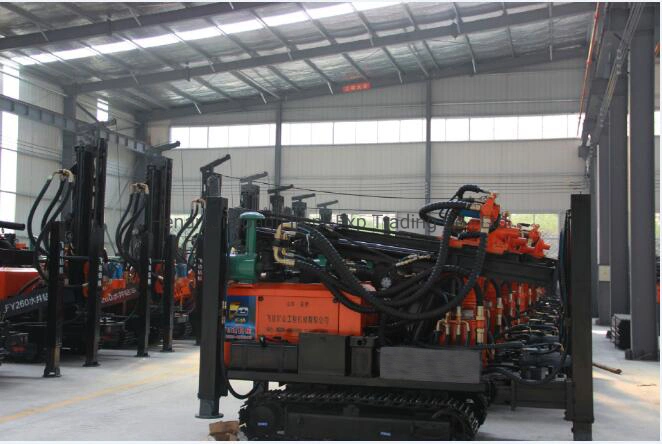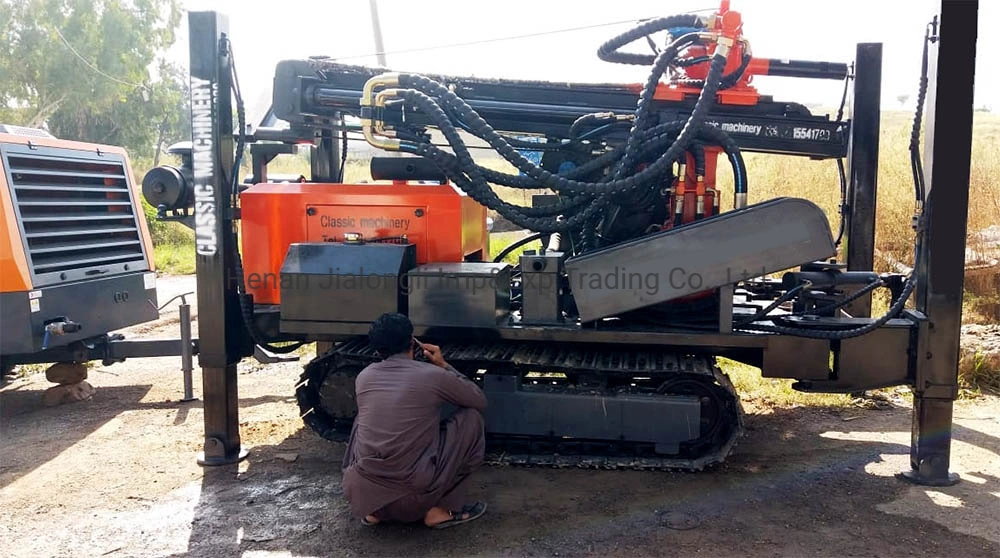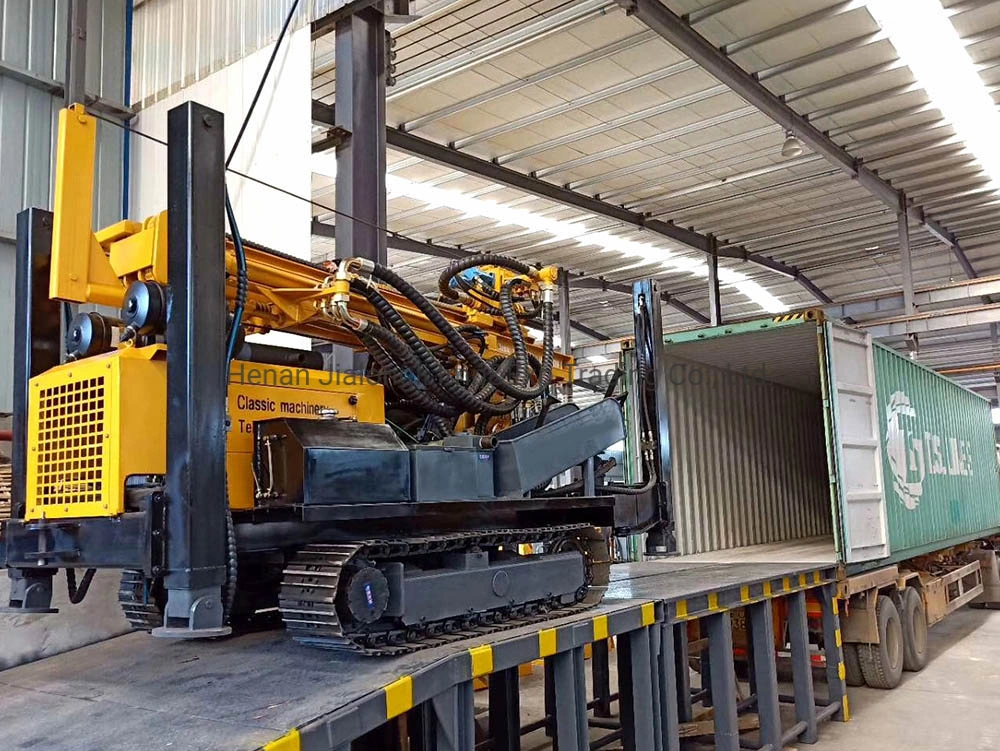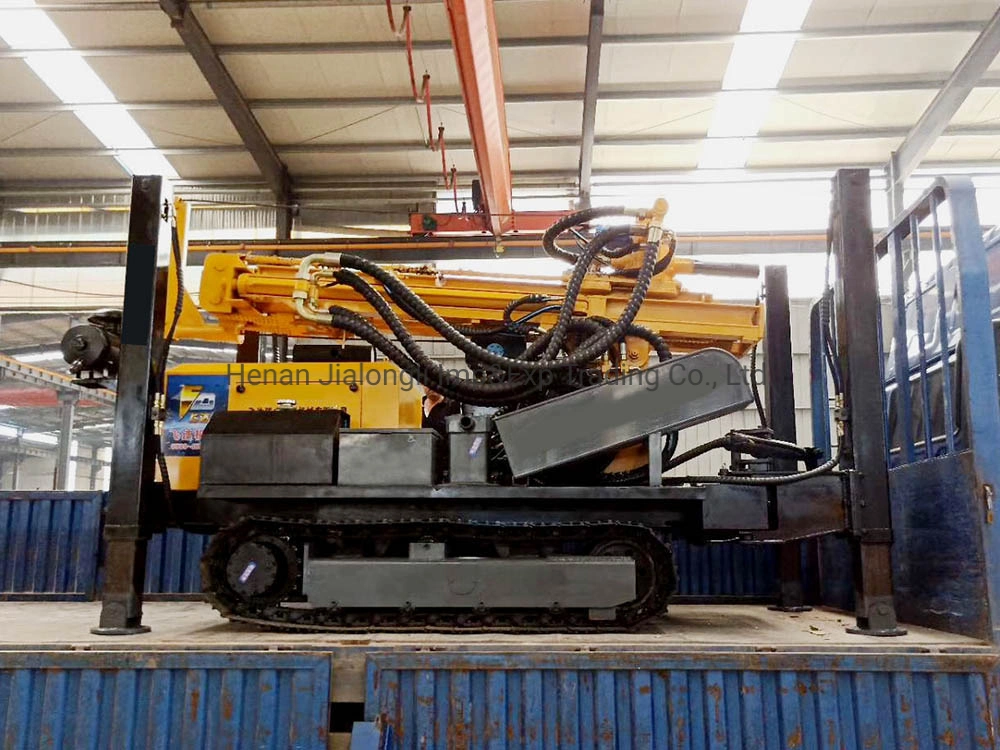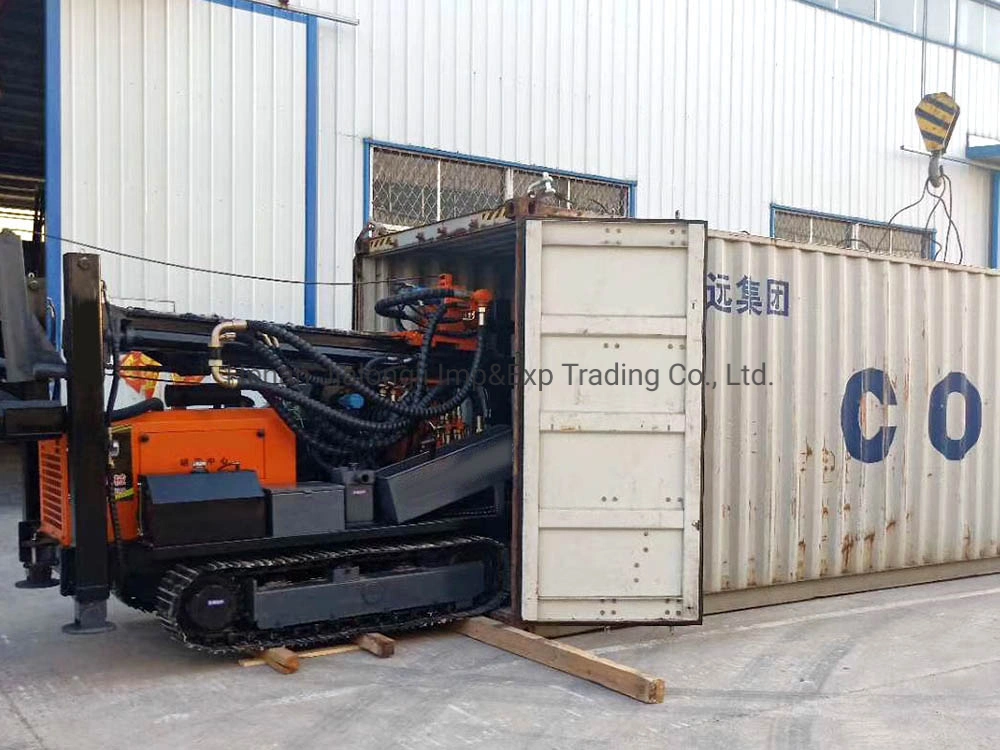 If you need to buy the water well drill bits and the drill pipes, mud pump or air compressor, we also have those drill bit and drill pipes, mud pump and air compressor, you can buy all the things from us, we can supply you the one-stop service, it means, one click, for all the things you need.
P
lease consult our salesman for the mud pump, air compressor drill bit and more details.
Thanks for your view, and any questions please send us an email or leave a message to us.